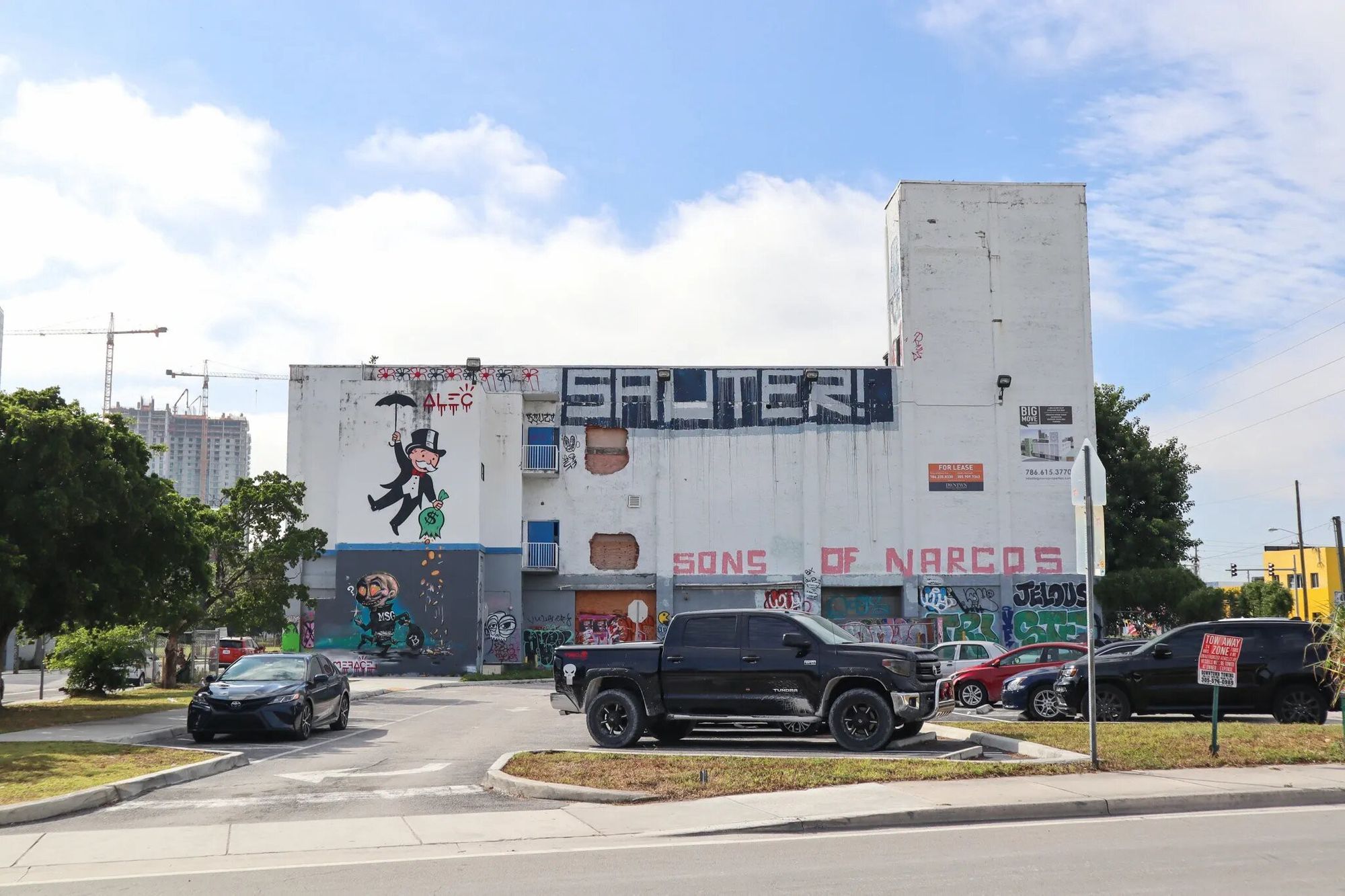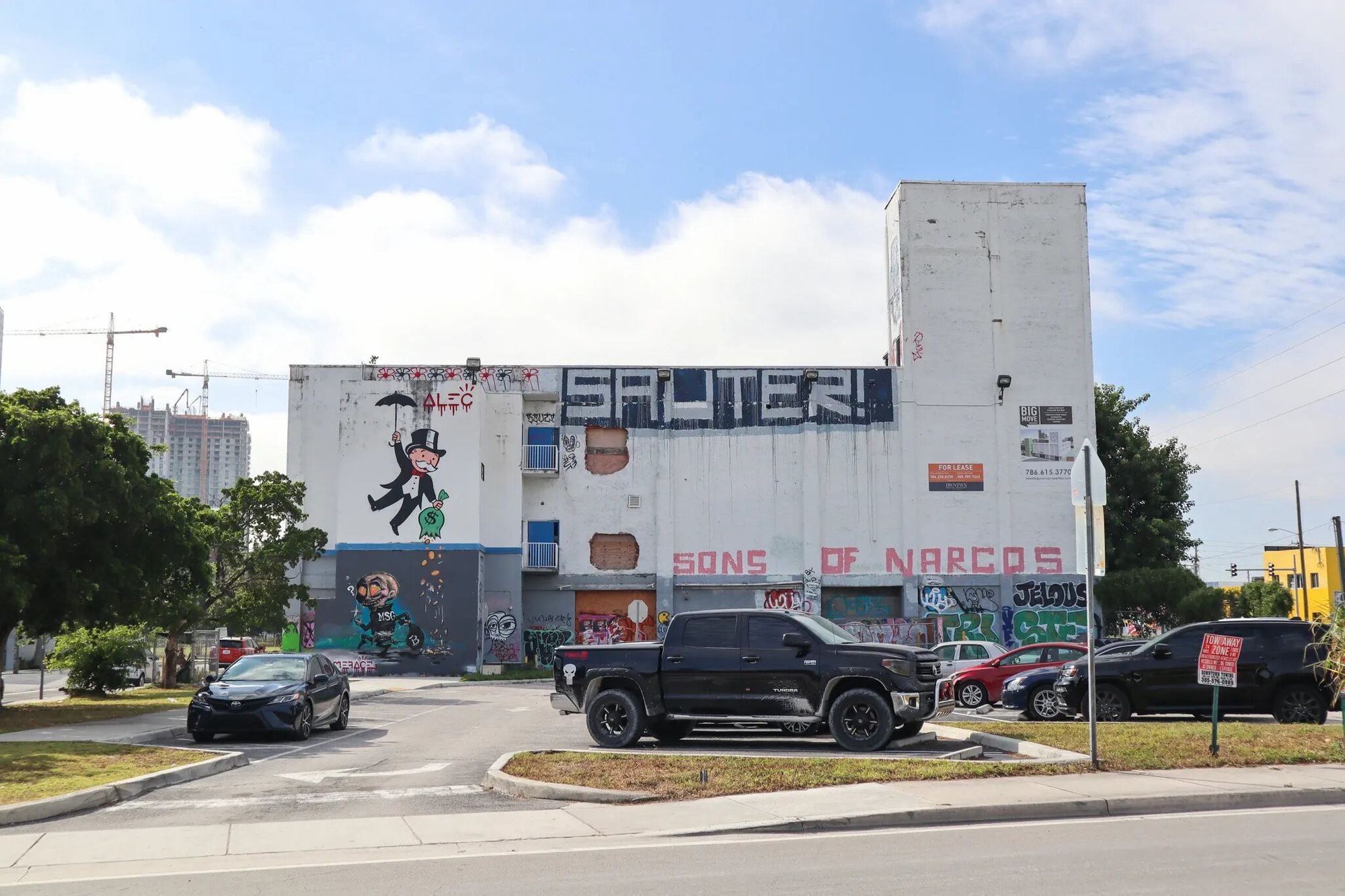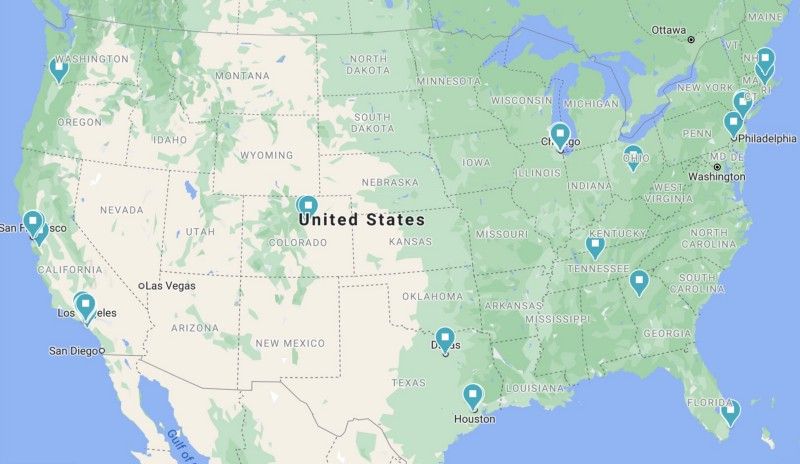 If he builds it will they come?
That's the big question for Travis Kalanick and his portfolio of 41 CloudKitchens locations that HNGRY has uncovered by searching through dozens of shell property companies and lease materials associated with its City Storage Company parent. The startup has been lowering rents as it expands into tier 2 cities, with prices as low as $3,600/mo in markets like South Central, Los Angeles where USC students will not be returning this fall and $4,500/mo in Columbus, OH. It has been heavily marketing itself on Instagram and Google, pushing leads to tour a facility before sharing prices. In some markets, the company has been advertising month-to-month contracts to fill vacancies.
Pre-COVID, the company was targeting unusually high cap rates above 20% in cities like Los Angeles and San Francisco, but it remains to be seen whether it can recreate the success of these early markets amidst a catastrophic climate for restaurants. In its new report, HNGRY has uncovered CloudKitchens' acquisitions and rental listings in 25 domestic cities. If successful, the company could eventually go public via a REIT (real estate investment trust) but if restaurateurs instead adopt vacant restaurant spaces for their delivery concepts, CloudKitchens could struggle to fill its spaces and fail to meet its unicorn expectations. According to Pitchbook, its last round of $700mm in financing from the Public Investment Fund and LeFrak valued the company at $5.3bn.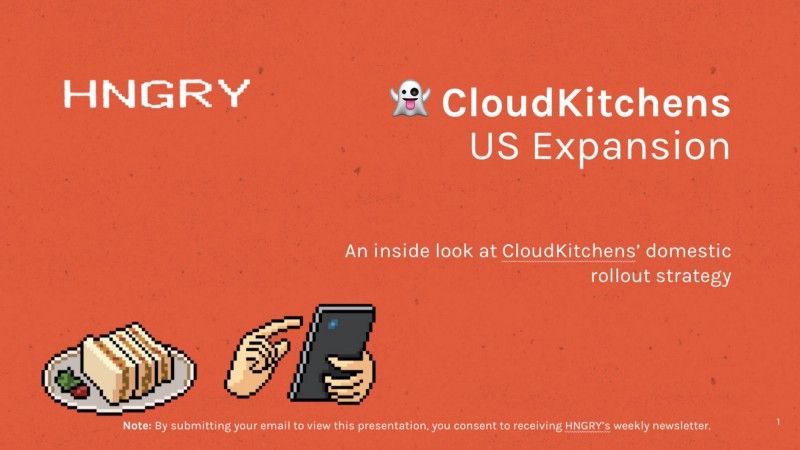 While the full report contains in-depth details on specific properties, I will attempt to summarize a few key themes:
Dorms galore
Many of the sites are five minutes from a college campus, ideally more than one. CloudKitchens' first site in West Adams was highly targeted at USC students, as evidenced by its creation of virtual food hall-like "superstores" where students could purchase items across a handful of convenience items and restaurants from a menu named after their fraternities. This strategy was pioneered by startups like Tinder, who leveraged greek life to gain its early user base.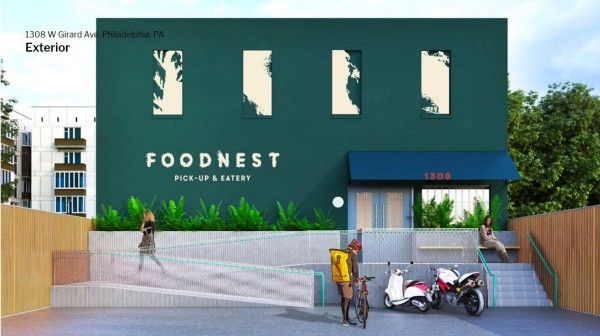 Middle income population
Properties in markets like Houston, Providence, and Atlanta are targeting median household incomes of $50,000-$100,000 while those in Chicago, San Jose, and Miami target six figure incomes. According to public marketing materials, each market ranges from $300mm-$1.5bn+ in annual food and alcohol spend. It has also positioned itself next to new luxury apartment buildings in markets like Houston and Chicago.
Accessibility
Many sites are located near or literally next door to major interstate highways to extend its delivery radius. CloudKitchens generally targets consumers within a 3mi radius in urban hubs and 15 minute driving distance in suburban areas.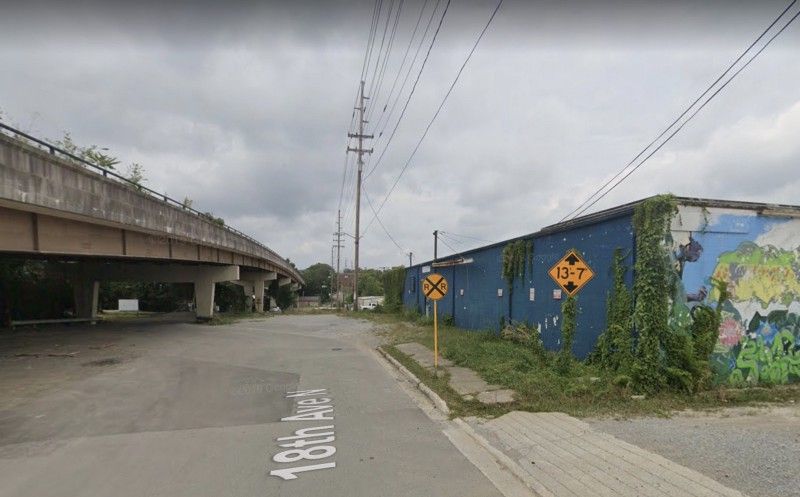 Discreet branding
CloudKitchens has gone out of its way to distance its parent company from each property, instead choosing to market each individual property as a "Food Center," "Food Nest," "Food Hall," "Food Hub," or "Food Junction." Many of these feature sit-down areas for pickup customers to sit and eat. Unlike other projects, architects sign strict NDAs that prohibit them from showcasing their work to new clients.
Hardware stores, auto shops, garages, subway terminals, oh my…
There is a certain profile of distressed real estate that CloudKitchens likes to buy. In many cases, these buildings are former auto shops or office buildings. In LA, it even bought an old subway terminal in downtown LA. According to trademarks filed with USPTO, the company has been planning to convert it into a consumer-facing food hall named either "Los Angeles Terminal Market Hall" or "Subway Terminal Market Hall." In some cases, CloudKitchens will purchase a property and lease it back to its current tenant before starting construction. According to The Information, the company made the mistake of purchasing multiple garages in NYC that it could not convert to kitchens due to ventilation challenges. Luckily, the startup puts down a small amount of cash on each property thanks to its revolving credit facility from Goldman Sachs, who is ultimately holding a bag of tens of millions of dollars worth of subterranean real estate. On just its Times Square purchase alone, Goldman purchased $5.2mm in debt from the former defaulted lender and assumed an additional $8.8mm in debt, bringing its total exposure to $14mm for the deal.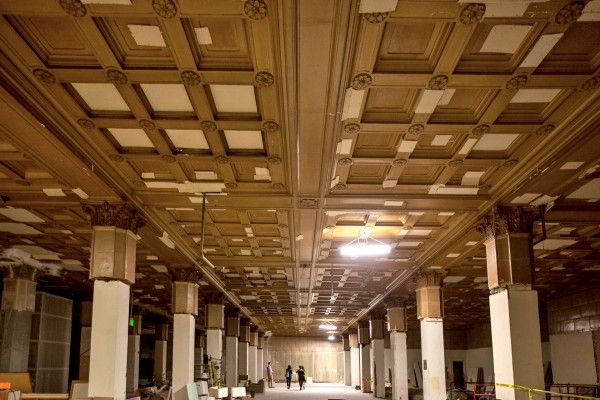 Swanky pickup areas, food lockers
CloudKitchens has come a long way on improving the courier experience in its lobbies. Renderings show swanky lounge-like areas for drivers to hang out as they wait for their orders to be called out from their consolidated pickup points. In some buildings, there are dedicated food lockers that could house orders for customers to pick up.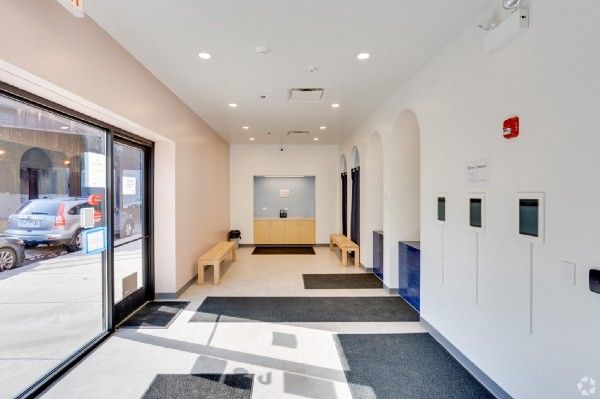 "Double hot" kitchens
Markets like Houston and Arizona are offering dual kitchen spaces for operators looking to cook a handful of brands. Cooks can move freely between the two kitchens, as the walls have been opened between the units.
Mega warehouses
While its sweet spot is roughly 30 kitchens in a 10,000 sqft footprint, CloudKitchens has purchased some buildings as large as 40,000 square feet. It remains to be seen just how many units it can fit under one roof, but its 25,000 sqft Orlando, FL location is permitted for 41 units and its 11,000 sqft Houston, TX location has 46.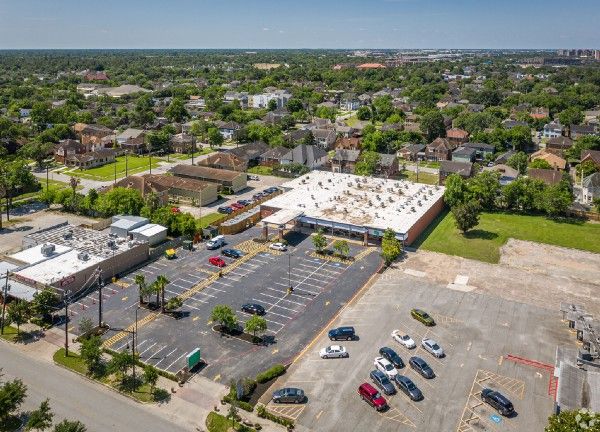 Modular shipping containers
It appears that CloudKitchens will be extending its shipping container drive-thru experiment to cities like Aurora, CO where it will set up shop in a parking lot of the Town Center at Aurora mall. Chick-Fil-A is currently operating its own makeshift drive-thru tent in one of its parking lots to keep customers and delivery drivers out of its indoor food hall. On the other hand, fast food chains such as Taco Bell, Sbarro, Burger King, Baskin-Robbins and Charleys Philly Steaks are still fulfilling deliveries out of their indoor food hall. While it confirmed CloudKitchens' tenancy, mall owner Washington Prime Group (NYSE:WPG) could not comment on the plans for the containers.
Every restaurant is a (potential) ghost kitchen…
Meanwhile, some of the largest restaurant chains are wising up to delivery, creating portfolios of virtual brands to cook in their own underutilized kitchens or as franchises to outside operators. Chili's Just Wings concept is on a $150mm run-rate and Earl Enterprises of Buca Di Peppo, Bertucci's, and Planet Hollywood is partnering with Grubhub and celebrity chef Eric Greenspan to build out a portfolio of owned and licensed brands like Tyga Bites, Wing Squad, and House of Subs. Earl has copied CloudKitchens and opened its own ghost kitchen in a former failed restaurant space in North Hollywood, just as Postmates has done with its Downtown LA test.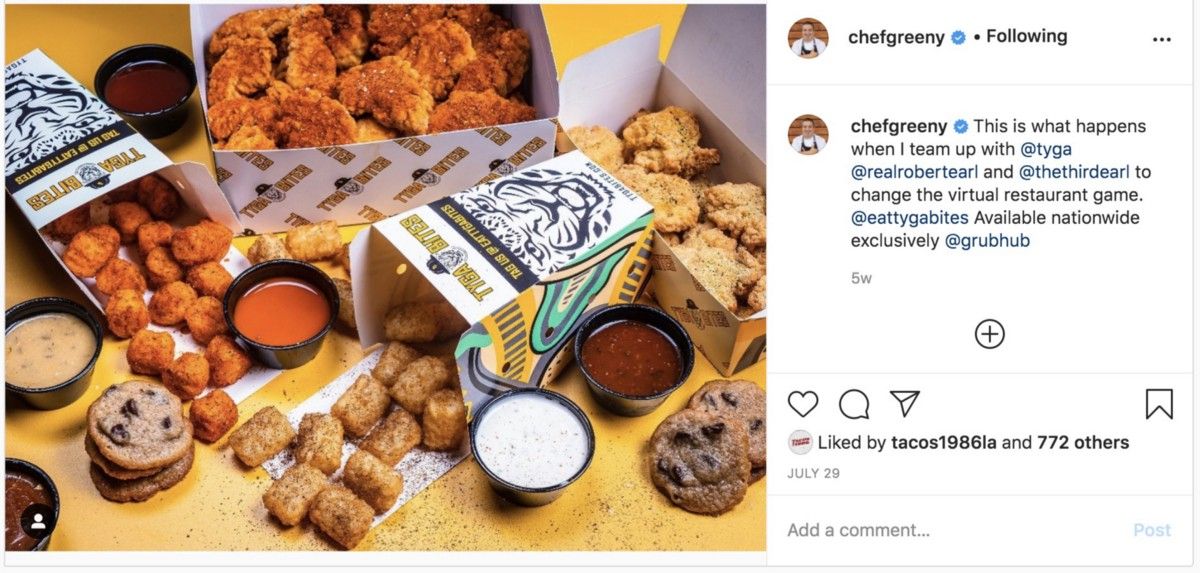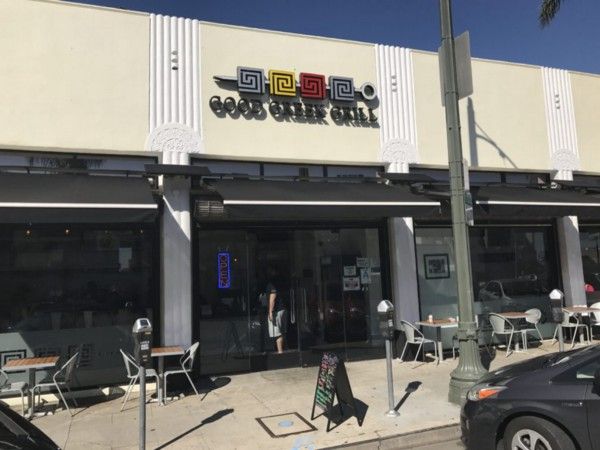 Welcome to the era of fast(er) food– where wings are slung by rappers on Instagram, cooked in shuttered restaurants and former body shops, and delivered quicker than you can say "heart attack." Here's a 15% coupon on your next order, please come again soon.