Weed Everything: Meet the owners of the trademark for "Weed"
November 11, 2019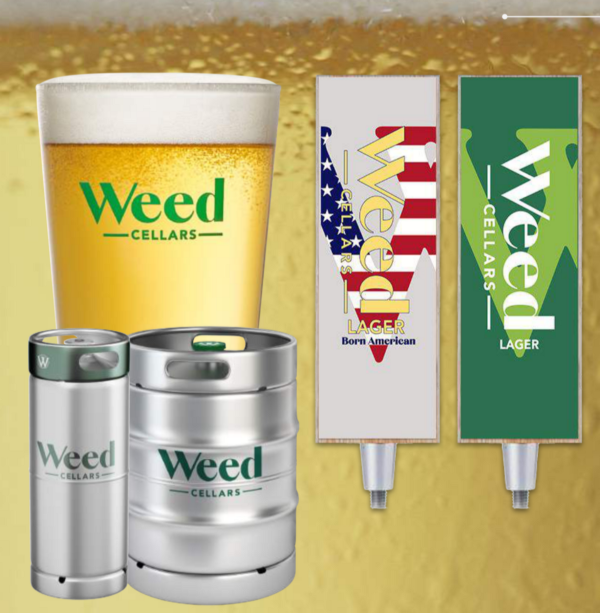 There's a whole new wave of billionaire and celebrity investors looking to capitalize on cannabis legalization, this time through trademarks. A company named Weed Cellars just launched a line of "Weed" branded wines and beers, but here's the catch– they don't contain any THC or CBD.
"When people ask me, do you have any weed in your product? I tell them I can't remember if I put it in or not," jokes Managing Partner Jim Moeller, an alcohol exec with nearly 40 years of experience in wine and spirits.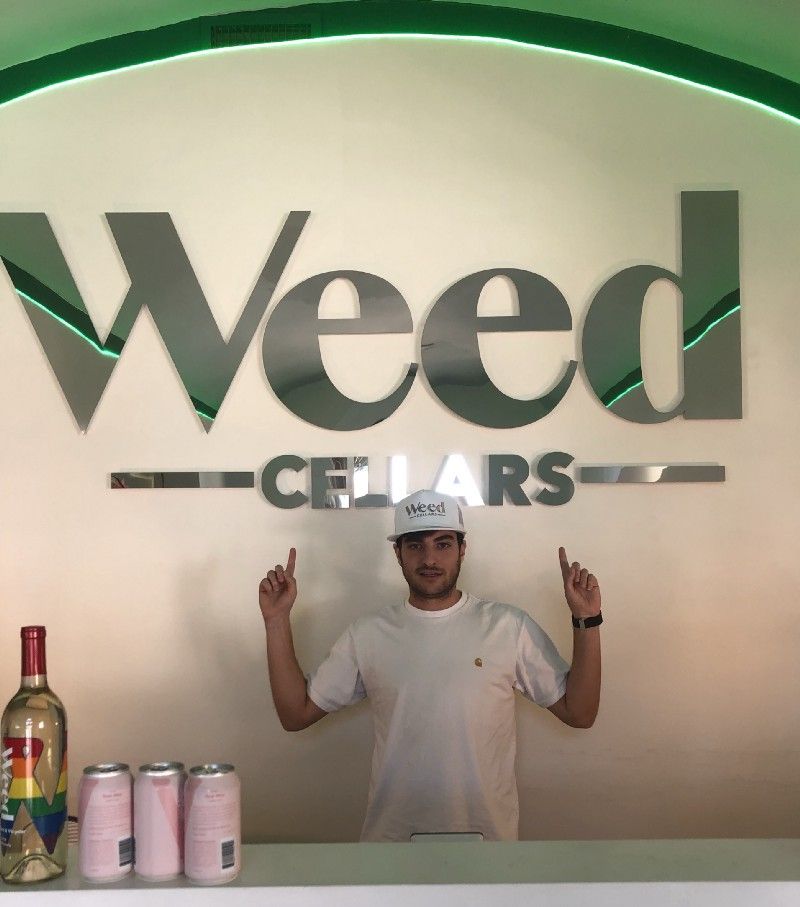 The company, which counts everyone from a multibillionaire former venture capitalist to country music star Gary Allan amongst its investors, owns the trademark for "Weed" in the US and 70 other countries. It's one of the rare substances whose slang term has universal recognition. Just as Coca Cola owns the trademark for "Coke," Weed Cellars owns the trademark for "Weed Cellars" and "Weed" on any product that isn't cannabis-infused."Weed" is a descriptor for any product containing cannabis therefore it wouldn't be defensible in court. Moeller claims that Canopy Growth, which trades under the "WEED" ticker on the Toronto Stock Exchange, is violating his trademark.
For now, Weed Cellars private labels its beer from the third largest craft brewer in the US and its wine from a northern Californian winery. The group has already received an acquisition offer in the hundreds of millions from a major brewer and interest from large distributors. Moeller, however, told HNGRY he is in it for the long haul, striving to build a $2bn brand. As covered in HNGRY's latest episode about THC-infused beverages, #futureofalcohol, big alcohol conglomerates like Constellation Brands are investing in cannabis to ward off the potential threat it poses to beer and alcohol at large (see segment below).
Moeller believes that the days of consumers going into a bar and ordering a Bacardi and Coke are over and that his brand will be the antidote. "They're going away from drinking Budweiser and Jack Daniels and they want to do something that's fun and cool and the alcohol industry is not addressing that," he explained. "That's a major factor why we came out with Weed liquor and Weed wine and Weed prosecco. When you go to a party with a six pack of Weed, you're a popular guy. There is a coolness factor to smoking weed and the alcohol industry is not addressing it."
Weed Cellars' wines are being tested at Albertsons in Los Angeles, Sam's Club in Arkansas, H-E-B in Texas, and multiple Lucky Markets (owned by Kroger). You'll also find them at Morton's Steakhouse, Island's Burgers, and Ruth Chris Steak House. Outside of alcohol, backpacks, and hats, the company is exploring the potential of licensing its brands for anything you could imagine, including Weed lounges. Unfortunately, potential licensees who've expressed interest from Miami, Austin, and Dallas would not be legally able to allow on-premise cannabis consumption, as none of those states have adult use legislation nor a permitting process for social consumption lounges. The company is in talks with brands like Vans to create a "Weed" branded line of shoes, as 85% of Vans' customers consume cannabis, according to Moeller. He even said they'd potentially make a "Weed" brownie with no THC for Safeway.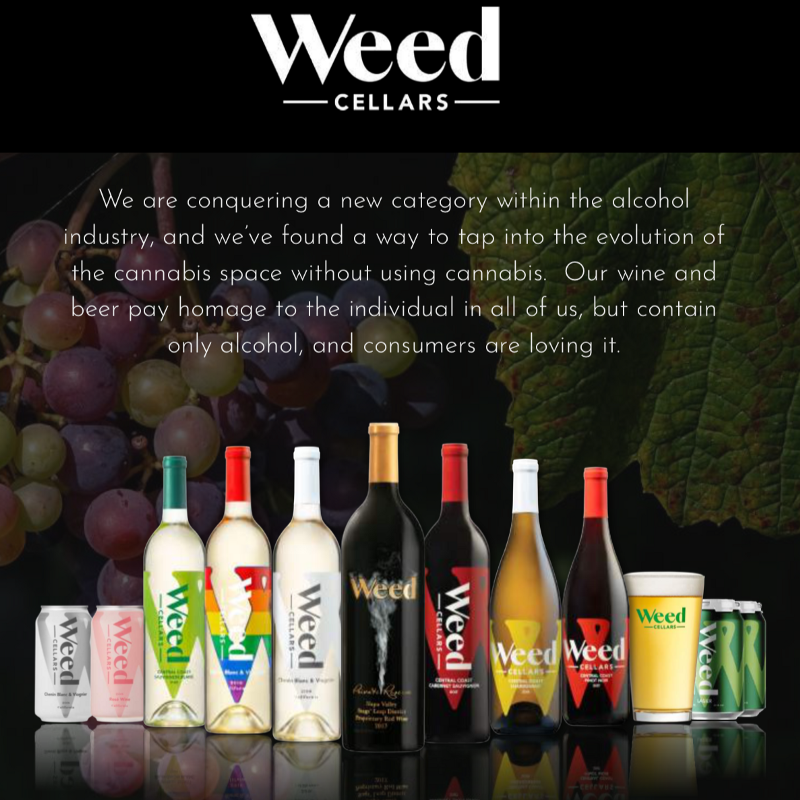 "There is a coolness factor to smoking weed and the alcohol industry is not addressing it."
"When we do a kickoff meeting with our distributors we put a gummy bear in front of everybody and we say 'we want you all to start this meeting off right and eat your gummy bear,'" he explained. "You'd be amazed, half the people in the room eat the gummy bear and [don't] ask if there's anything in it. That's who we are as a company."
Weed Cellars is currently headquartered in a former ivy-clad West Hollywood furniture store on La Cienega Blvd that sports a backyard, lounge, and bar area. Celebrities like Eddie Murphy have already been drawn to the space, just as I had been a few weeks ago when I spotted its bold awning from the street. The company just put out its first press release last week and plans to start putting out headlines like "America is now selling Weed to Mexico."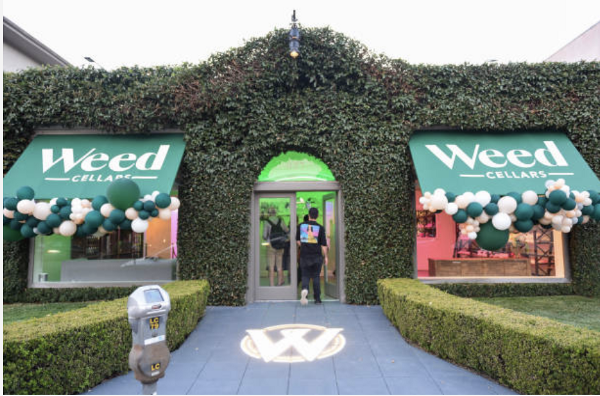 The company initially spent $500k in trademark legal fees and was rejected twice by the Alcohol and Tobacco Tax and Trade Bureau due to their labeling on wine that read: "This product doesn't contain THC." Once that was removed, the application was approved. Since the trademark has to be used in commerce in order to remain active, the company subsequently went on to raise a round of outside capital to operate its alcohol business.
"People are like, how did you get that word? People can't believe it," Moeller explained. "In today's day in age, there's so many algorithms out there that grab every word and somebody locks it down. They didn't get it on this one. It's the one that got away, the biggest one of them all."