As major delivery marketplaces suffer a new set of regulated fee caps, a handful of white-label technology players are competing to become the "Shopify for restaurants," allowing restaurateurs to go head-to-head against the platforms they've historically labeled "a necessary evil." These solutions mark a shift away from marketplaces (unsustainable commissions) towards direct online ordering for pickup and delivery (SaaS). That being said, these solutions shouldn't be looked at as an either/or to existing platforms, but rather as the preferred ordering channel. Amidst a dining landscape that has been turned on its head, there's no room to begrudgingly use technology that's not beneficial to a restaurant's bottom line.
If they want to survive the era where takeout is the new dine-in, restaurateurs must do the following:
Set up direct ordering as the default online shopping cart for all pickup and delivery
Remove all references to third party apps on owned channels (social media, website, etc), leveraging marketplaces only for marketing to new customers
Leverage third-party logistics to deliver the order or incorporate off-the-shelf logistics software with their own drivers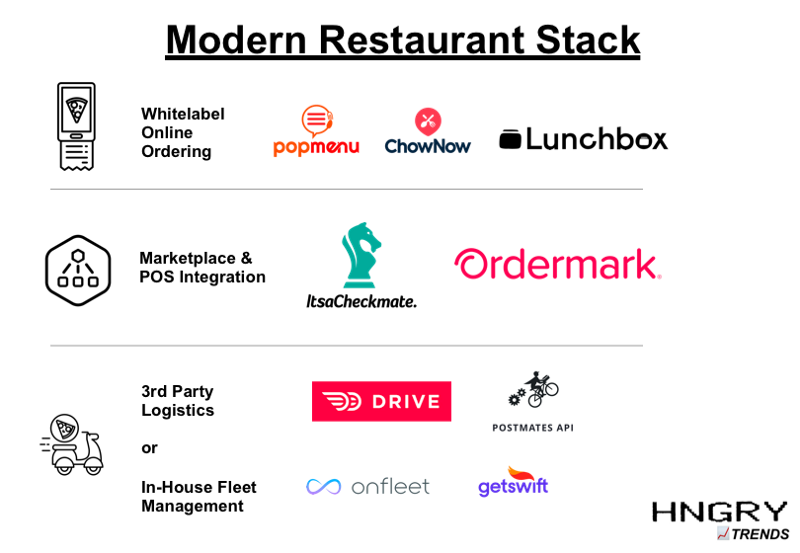 I've recently spotted services catering to this need and can attest to how fragmented they are. Since larger chains have greater capacity to build customizable solutions, I've focused the majority of this article on solutions for independent restaurants that have fewer units and highlighted a tiny sample of options that I believe to be more turn-key. To keep things simple, I decided to break them down into three major functions:
White-label online ordering
I can't tell you how frequently I see restaurants mention to existing customers that they are on all the delivery apps. They're unwittingly screwing themselves over by handing over the customer relationship over to third parties at a lower margin and permanently losing out on the opportunity to capture lifetime value. It is imperative that restaurants stop doing this immediately and start viewing third party marketplaces as incremental marketing opportunities to capture new customers rather than cannibalizing existing demand!
Services like ChowNow empower restaurants to source their own pickup and delivery orders, forgoing the standard 15% fees for pickup and 30% for delivery in exchange for a monthly or annual subscription that isn't tied to sales volume. Of course, this doesn't account for the transactional cost of doing delivery which I'll cover later on. ChowNow is integrated with other platforms like Instagram and Google Search, allowing its partners to frictionlessly capture demand from customers seeking them out on search or social.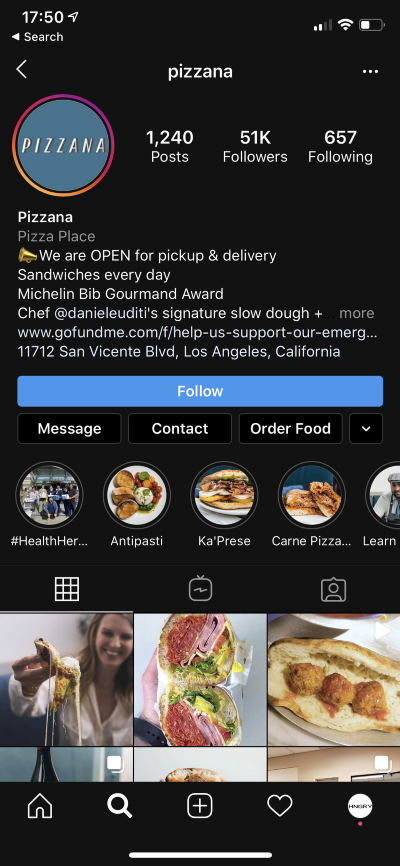 Once a restaurant has a service like ChowNow, Lunchbox or PopMenu up and running, it should remove any reference to Postmates, DoorDash, GrubHub, Uber Eats, Caviar, etc. on its social media presences and website. Customers should now be able to order seamlessly from these contexts, allowing the restaurant to capture their email address to market to them later on.
Marketplace & POS Integration
Once restaurants have removed all mentions of third-party marketplaces on their website and social media, they can more freely experiment with running promotions to enable trial from new customers on third-party delivery platforms. When those brands finally own the customer relationship and have built a sustainable business that covers fixed overhead, third-party delivery shifts from "necessary evil" to gravy on top.
While they may look cool, mini "mission control" centers filled with tablets to manage these platforms add more chaos to an already frenetic environment. Instead, restaurants need to streamline these tickets for their back-of-house using a single tablet/printer with an aggregator like Ordermark or Checkmate. These services also integrate into popular POS systems to enable a more seamless operation, allowing staff to pull up any dine-in, takeout, or delivery order from their existing systems.
CloudKitchens has Otter, its own version of Ordermark that it provides to its tenants and other restaurants looking to streamline their third-party marketplace integrations. Naturally, CloudKitchens has not publicly associated its brand with Otter's and has egregious data privacy terms that allow the company to take advantage of unsophisticated restaurateurs. The terms shown below from Otter's website would hand over all of a restaurant's sales data to CloudKitchens which could presumably be used to create competing brands, as it has already demonstrated through facility brands it licenses to various tenants, food trucks, and non-affiliated restaurateurs.
Last-mile fulfillment
While ChowNow offers its own couriers in some markets, restaurants are best off leveraging a more sophisticated network of Postmates or DoorDash drivers. Most ordering platforms support these integrations and allow businesses to split or pass the full cost of delivery on to the customer. For example, DoorDash Drive charges a flat $6.75 for the first mile of delivery and $1 per mile thereafter.
Assuming enough demand, restaurants can profitably hire their own drivers and manage the logistics using third-party software like Onfleet or Getswift. These services allow diners to track their orders while providing efficient delivery routing for a restaurant's drivers.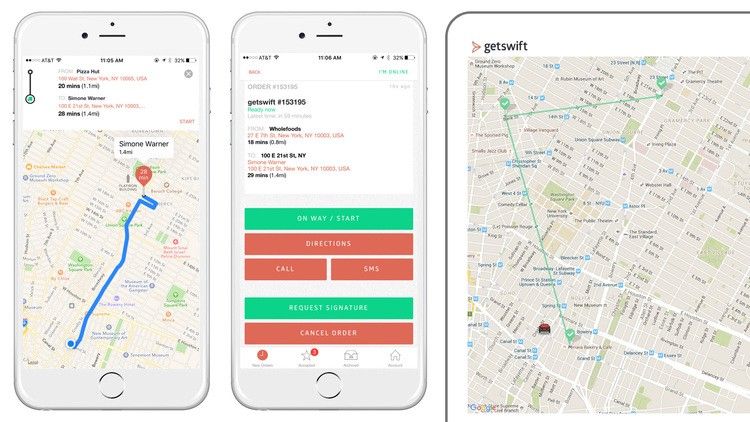 If this all seems like it's cobbled together, that's because it is. I'm currently going through the process of setting this stack up for my local deli and I can attest to how frustratingly high-touch and difficult it is. But if the dine-in experience means filling four tops with mannequins and separating diners with plexi glass and shower curtains, restaurants better start preparing for a world where takeout is the new dine in no matter how steep the learning curve.
** Special thanks to Brandon Maultasch and Scott Landers.