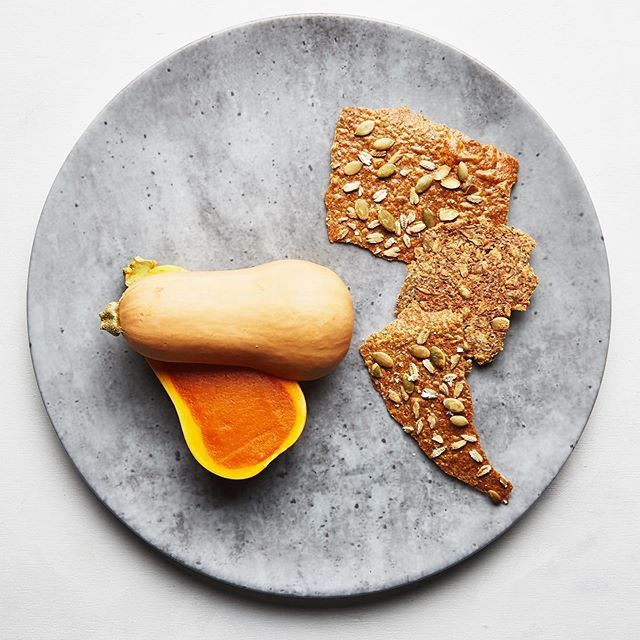 You may recognize celebrity chef Dan Barber as the owner of Blue Hill restaurant and Stone Barns farm, but today he is a futurist building a movement to upend today's industrial agricultural system which, like our current internet, is programmed by a small handful of companies. He's leveraging his new seed startup, Row-7, to build an ecosystem of chefs, plant breeders, and farmers who are sick of the status quo. Like the Teslas and Ubers of the world, his go-to market strategy is to target the high end of the market with hopes of one day making his vision accessible to the world.
This past Monday, he gave diners a taste of this utopia at his Chefs x Breeder's dinner series inside an indoor nursery in Los Angeles' downtown Art's District amidst the #GettyFires. Notable chefs included Jeremy Fox (Birdie G's), Nancy Silverton (Mozza), Virgilio Martinez (Central), and Michael Cimarusti (Providence). While these chefs may have been the draw to justify the high ticket price of ~$350, it was the breeders behind each dish who really stole the show. This was intentional.
It all started seven years ago with a conversation between Barber and Michael Mazourek, a plant breeder from Cornell University. Barber grabbed a butternut squash and challenged Mazourek– "why do we have to add maple syrup and brown sugar to eek out any flavor in the squash?" To which Mazourek responded: "in all my years in breeding, no one has asked me to breed for flavor." Barber melted inside. He channeled this dismay into the creation of the Honeynut, a naturally flavorful, shrunken down squash designed to be simply roasted in the oven in its own skin with just a touch of salt. According to Bon Appétit, the Honeynut is now grown at 90% of northeastern farms. Mazourek is now a co-founder of Row-7.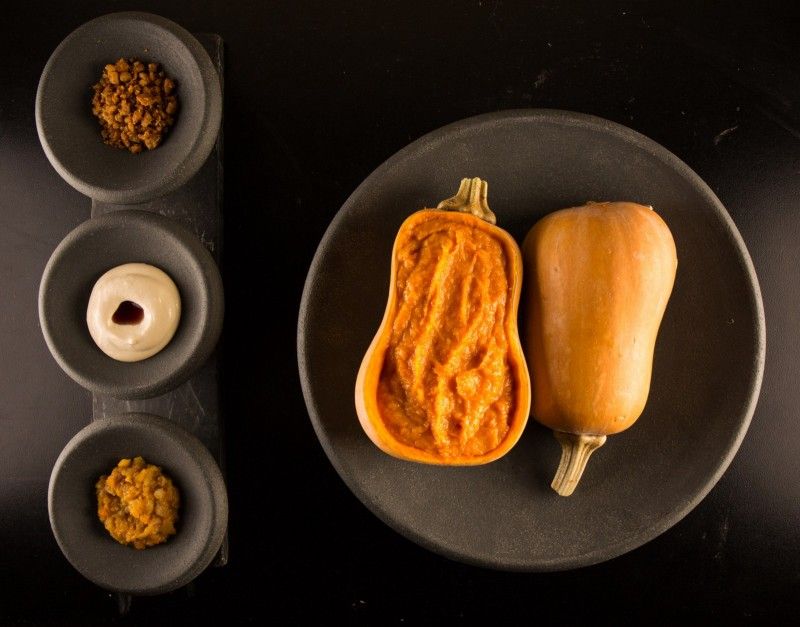 In his welcoming speech to an audience of industry elite such as Walter Robb (former co-CEO of Whole Foods) alongside experience-seeking American Express cardholders (Amex was the sole sponsor), Barber drew an analogy between the architects of our current monoculture food system and Robert Moses. He argued that chemical companies are to food as Robert Moses was to cities and their diversity. Moses was the architect of blueprints such as the Lower Manhattan Expressway that would have rendered today's downtown Manhattan villages utterly unrecognizable. His other controversial Long Island bridges have also been said to have been engineered to exclude buses of minorities seeking retreat at Jones Beach. Barber witnessed the same uniformity on a recent trip to Salinas, California aka the "Salad Bowl of America," whose produce is responsible for 9 out of 10 salads we eat in the US.
"You would be forgiven for thinking that they were manufactured, pre-programmed, and in many ways they are," explained Barber, perplexed by the thousands of rows of romaine and iceberg in what he described as 'military-like uniformity' as giant chemical sprayers laid the field. "The seed itself is a kind of software. In this case, it dictates the exact size of a lettuce. If it doesn't fit in the box, it doesn't fit in the shipping crate, if the shipping crate's not full it won't stack on the truck or on the rail car. Lettuce, the most eaten fresh vegetable in the United States of America is engineered to fit in a box. It's not just lettuce, it's not just boxes. Squash, beats, barley and nearly everything we eat in this country is designed for efficiency. Diversity is out."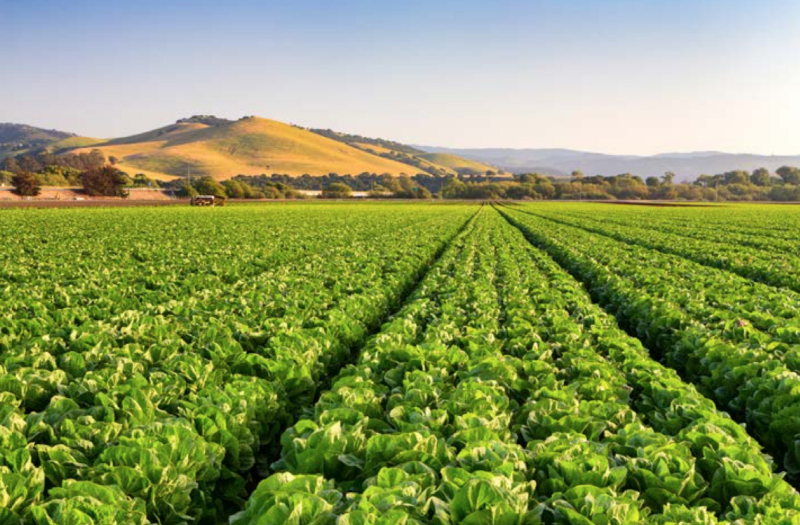 Thus, Barber argues it's seeds that are responsible for dictating each step of the modern supply chain from harvest to distribution to the shelf size of the supermarket. 70% of our seeds are made by just four major conglomerates– Bayer, Corteva, ChemChina, and BASF. Over the past century, three of every four varieties of vegetables have disappeared. Meanwhile, seed companies have muscled their power to create new patent protections that allow them to own genetic traits that were once part of our collective commons.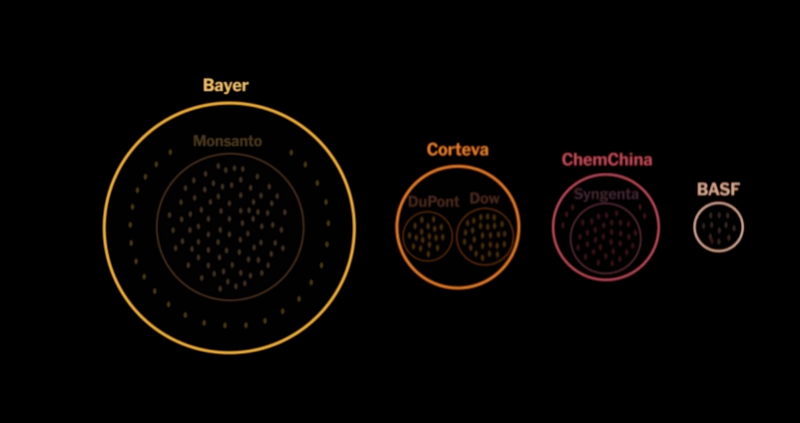 "Seed companies can't own cauliflower, they can't own onions or carrots or tomatoes. But they can and they do own the genes for bitterness in onions, and they own the genes for the sweetness in grape tomatoes and the genes for the whiteness in white cauliflower and the purpleness in purple carrots," continued Barber. "They even have a patent on something called 'pleasant tasting melon' which means they get to not only own taste, they get to define it too. If you think all of this sounds completely fucking bananas, I agree with you, it is. The worst part is– none of it tastes good, not one thing."
The meal was comprised of six courses and eight dishes each paired with a Row-7 varietal. Barber started the night off with v2 of the Honeynut squash that he's calling the 898 served with an experimental grain cracker that guests had to "forage" for inside the centerpiece. "This is my course," he proclaimed. "I have decided to do absolutely nothing to it. This is squash unplugged."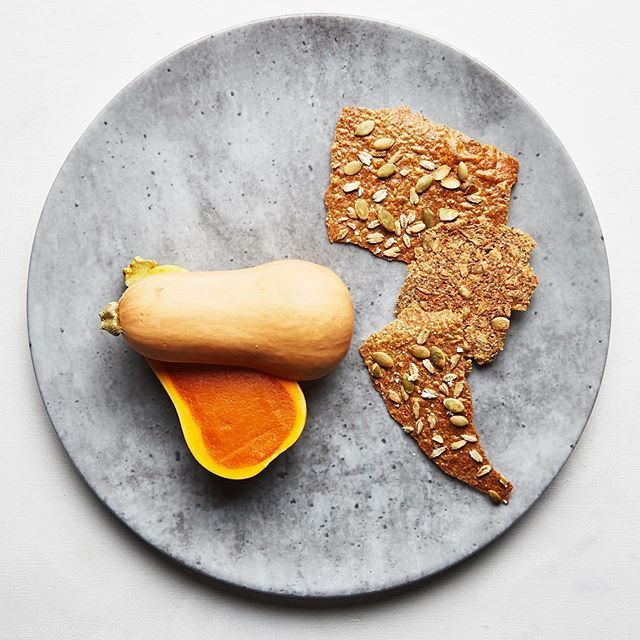 Up next was Jeremy Fox, who took the "Upstate Abundance Potato" and incorporated it into his whitefish salad. The potato was bred by another breeder from Cornell, Walter De Jong, who "felt offended by the russet potato" and wanted to make a better one that wouldn't require butter, cream, and bacon bits to provide its flavor.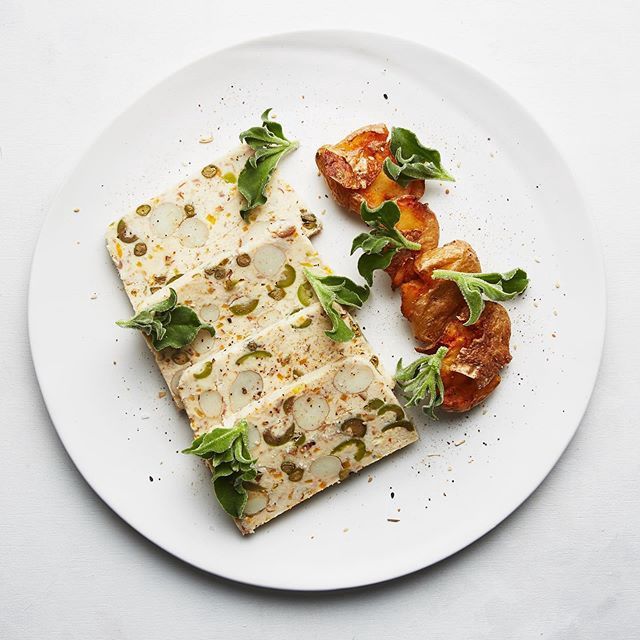 Mei Lin took Mazourek's Habanada Pepper, a vitamin-c rich habanero that had been engineered without spice, as the key ingredient in the Ponzu sauce of her Hokkaido scallop dish. Mazourek posited: "if we could just make it something so that we're not just telling people you should eat your vegetables but make this pepper something that people were seeking out and the nutrition was coming along for the ride, wouldn't that be fun to create?" Here it was on our very plates.
Virgilio Martinez, whom Barber praised as the best chef working today, used the Badger Flame Beet bred by Irwin Goldman as the star of the next course. "When you eat beet greens or roots, sometimes you get an abrasion or a scratchiness in the back of your throat from oxalate crystals, so beets have some negative factors going for it," explained Goldman. "We wondered if we could reduce the earthiness [and the] oxalic acid in the beet. Some 14–15 years later we came up with the Badger Flame beet. Plant breeding is the slowest of the performing arts."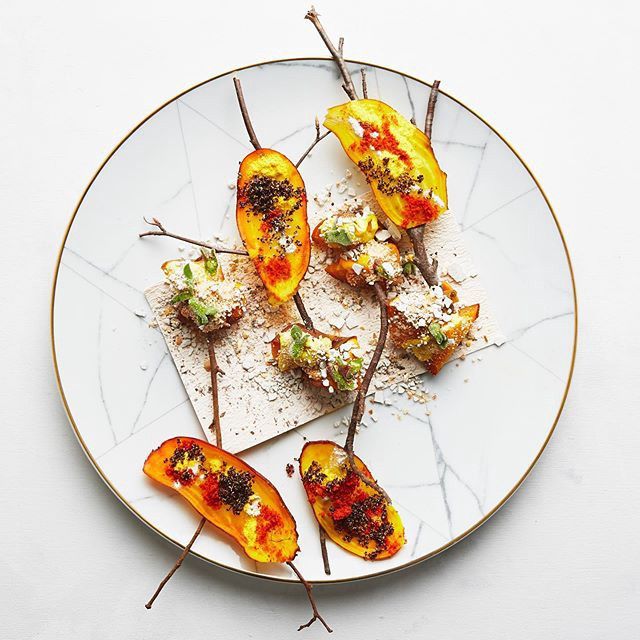 The bread course was a tale of two different varieties of wheat, Emmer and Aragon 07, baked by Andy Kadin of up-and-coming Bub and Grandma's bakery. Emmer has been preserved over 10,000 years old and yields a mere 35 bushels per acre. For the Aragon 07, Barber approached Dr. Stephen Jones of Washington State University to breed a higher yielding (90 bushels/acre) version of the Aragon 03, a varietal he had become enamored with for bread making. "In a nutshell, his belief was that if old varieties of wheat don't perform in the field, they don't have the kind of yield that makes farmers excited to grow them, and in the end, they service the 1%," explained Barber. "Can we preserve that flavor and nutrition and bring it to a point where it has the accessibility for everyone?"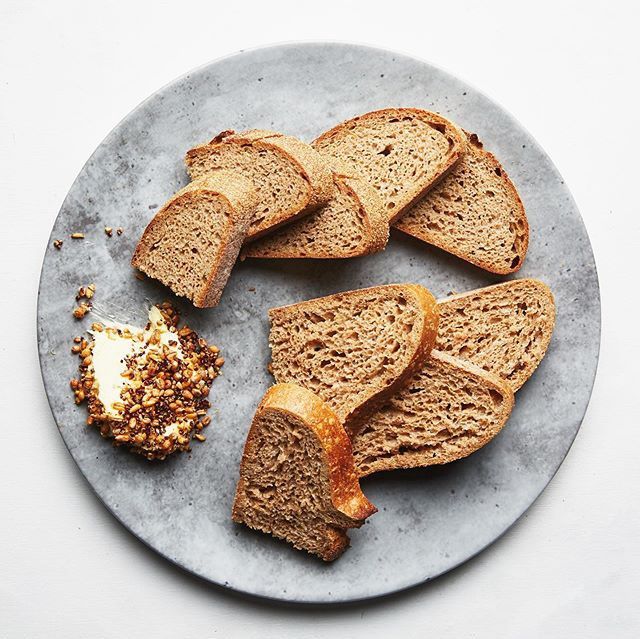 Next up was Suzanne Goin's (Lucques, a.o.c.) take on the Koginut Squash: steamed, pureed with brown butter and cream, topped with a roasted squash and a persimmons and pomegranate sauce. Cimarusti then served us his barley dish served with seaweed, yuzu, and tissue thin Matsutake mushrooms. The barley was provided by Kevin Murphy of Washington State University, who is leading research on specialty crops for developing countries like Rwanda, Malawi, and Ecuador. "Odds are if you eat barley, the type of barley you ate was a barley that was bred for pigs. It's a feed barley, not bred for humans," he explained to surprised audience.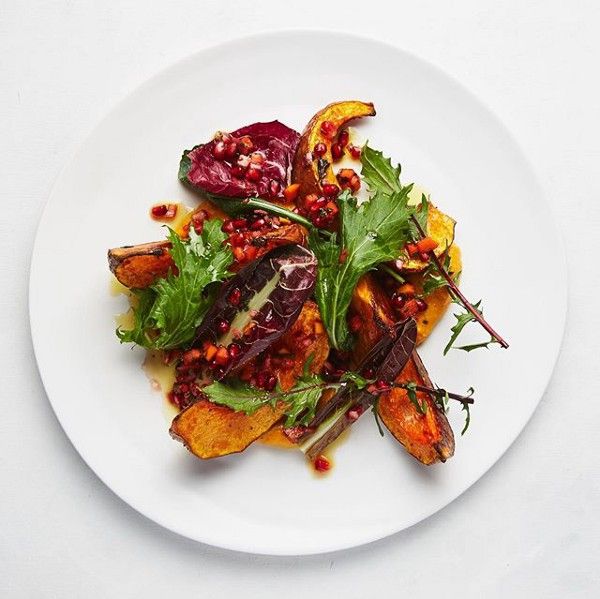 Nancy Silverton closed out the evening with a buttermilk panna cotta on a biscuit of puffed and fried experimental oats served with a side of caramelized princess raisins. Upon receiving shipment of the oats at Mozza, she was surprised that they resembled faro rather than plain old steel cut oats and felt compelled to make it the star of her dish. She has Michael McMullen of North Dakota State University to thank for that.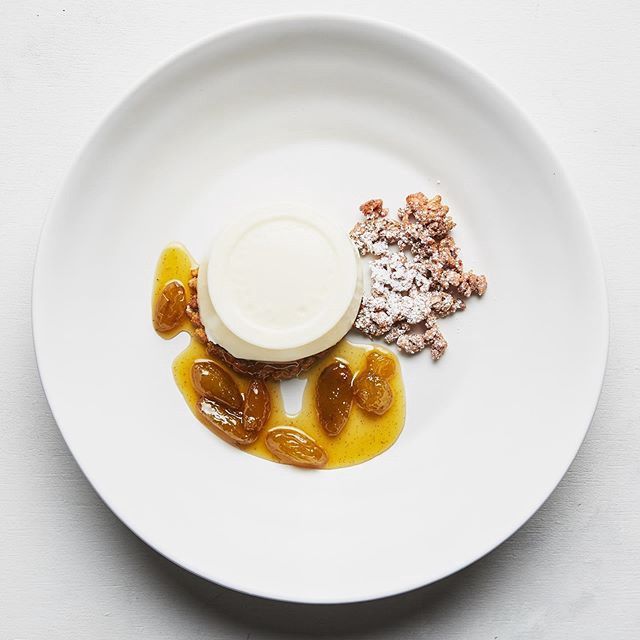 Our senses were most certainly heightened not only by the food, but also our very surroundings. 18 miles west of the event, 760+ firemen fought to contain the fires throughout the evening.
"We have to acknowledge what's happening around us," urged Barber. "Tonight's dinner was always about the community coming together over food and it means so much more now than it did just a few days ago."
The future of food is ours to write. Hello, world.