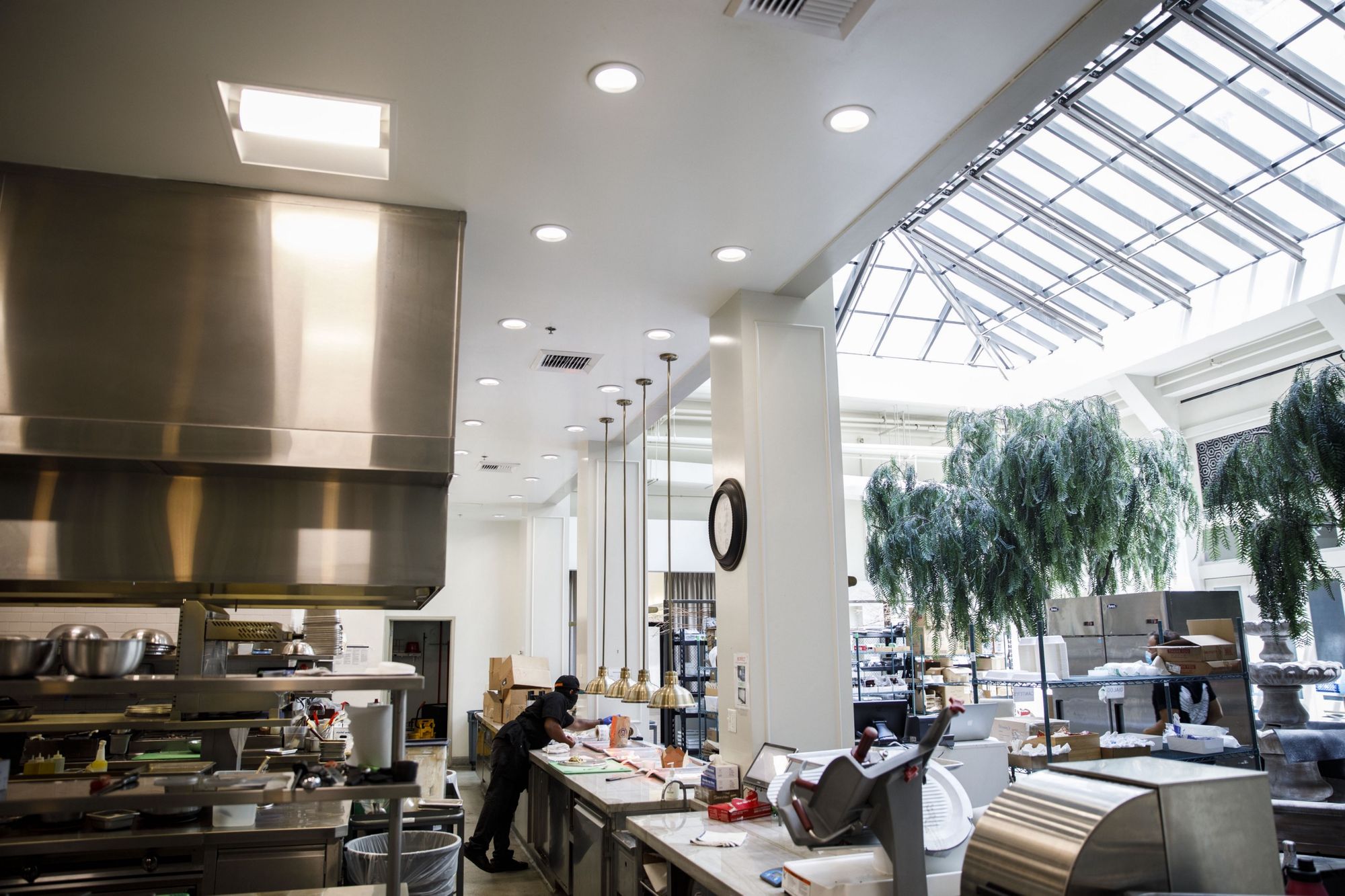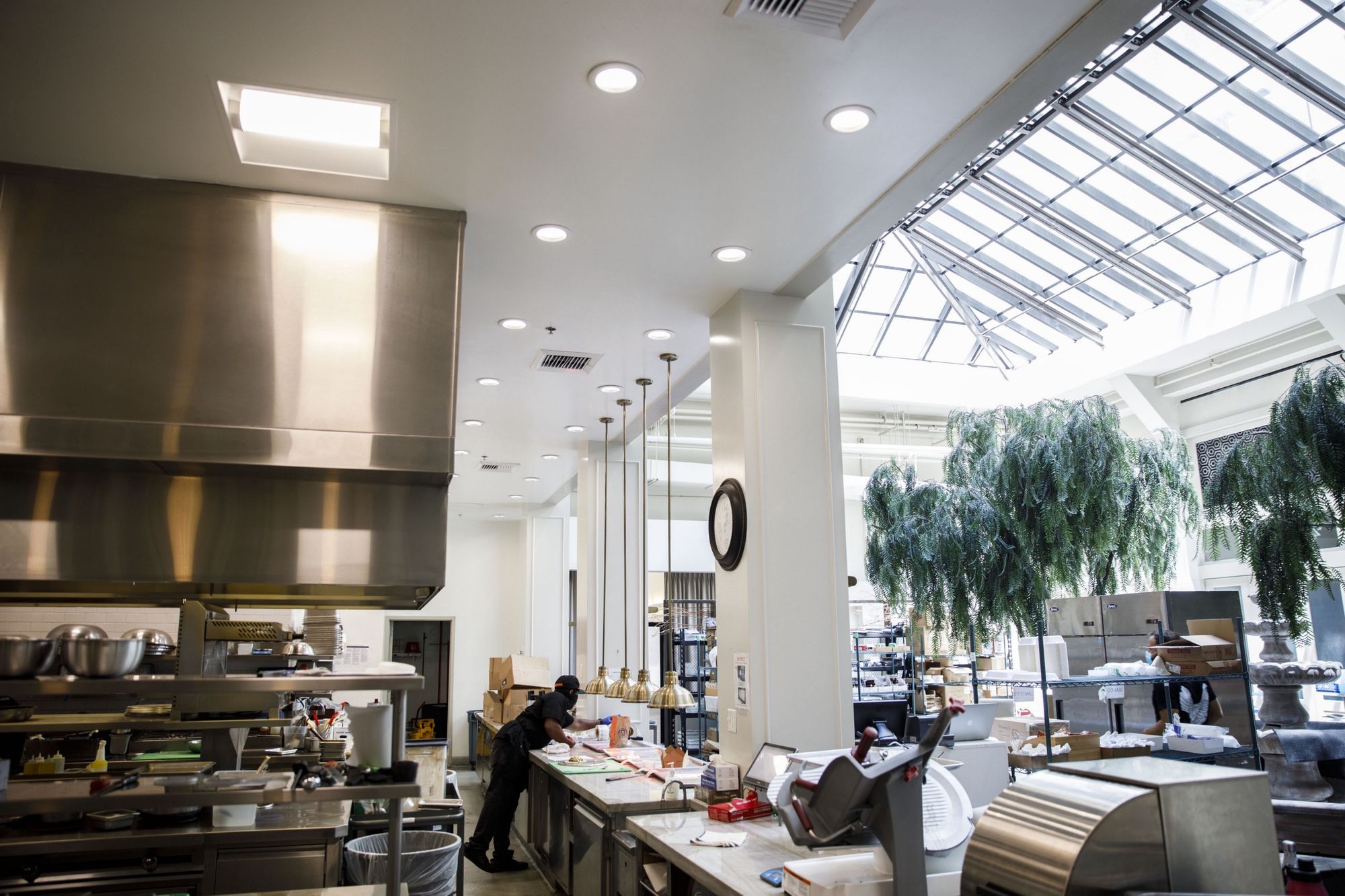 Photos by Patrick Fallon for HNGRY
When it comes to ghost kitchen models there are real estate plays like CloudKitchens on one side, pure-play subleased facilities like Kitchen United and DoorDash Kitchens in the middle, and asset-light franchise models on the other. Postmates is making its debut into the space using the latter strategy as it puts together a three-way partnership between top performing restaurant brands, caterers, and its marketplace. It's not your typical idea of a ghost kitchen–– all licensed brands are prepared from a single kitchen housed in a former French fine dining restaurant in a historic loft building fully equipped with a skylight atrium and marble countertops. The site is located around the corner from Grand Central Market in Downtown LA and launched on July 24th with Canter's Deli, followed by Trejo's Tacos and Dialog Cafe over the subsequent weeks. By the end of the quarter, the kitchen expects to house 5–6 brands under a "virtual food hall" concept where customers can order from multiple restaurants on a single menu. The operation is gaining traction with nearby residents despite being located in a commercial zone that's witnessing a decrease in workers. Postmates marketing materials promote a delivery radius spanning north to Echo Park all the way south to South Central, where it will compete with CloudKitchens' drive-thru shipping containers.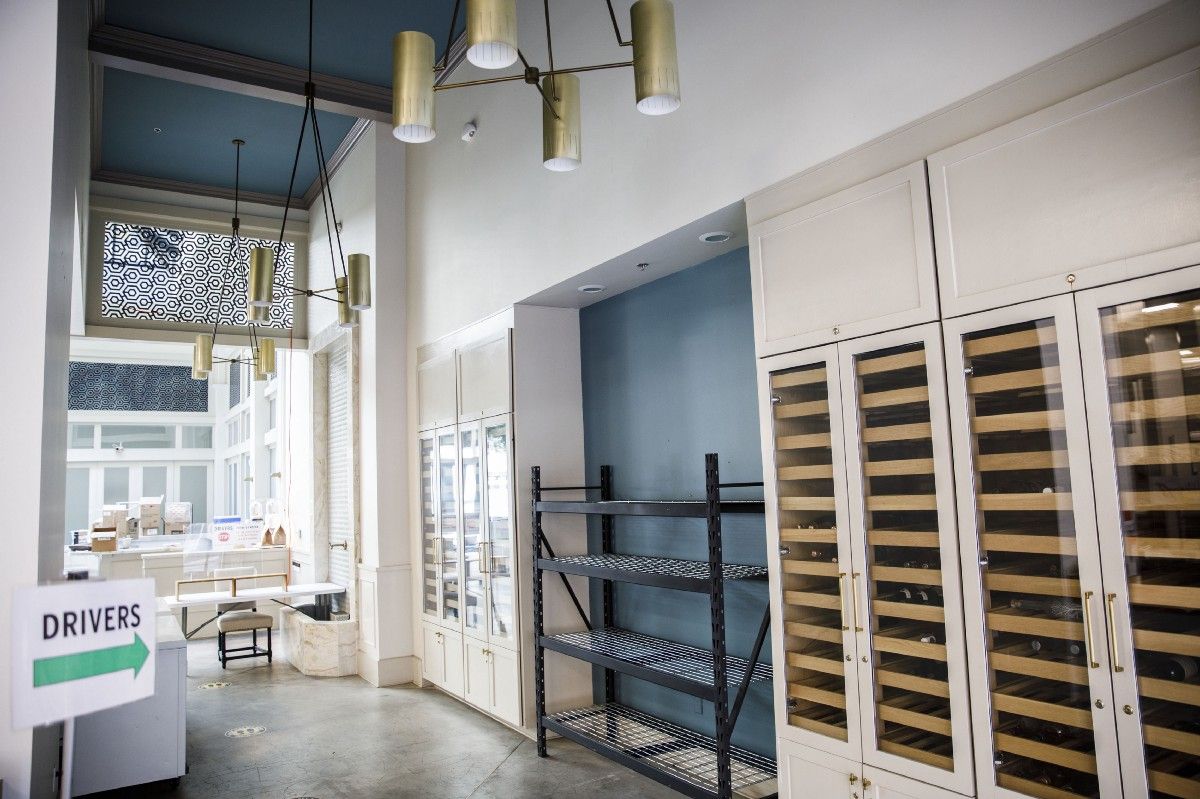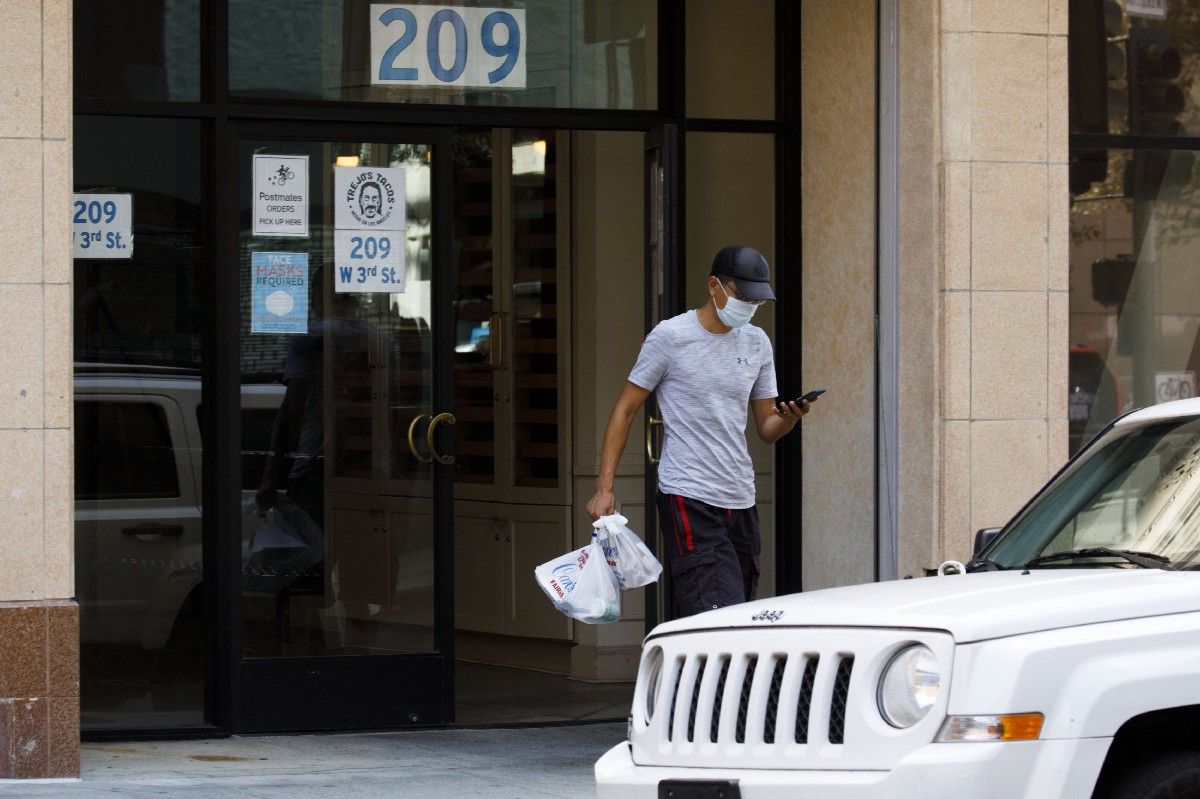 About three months ago, Postmates sought counsel from foodservice experts who suggested it tap the expertise of caterers like Michael Duddie, owner of The Copper Key. Before the pandemic, his business was focused on supporting large 500-person galas for celebrity chefs like Nancy Silverton (Mozza, chi SPACCA, Triple Beam Pizza, La Brea Bakery) where his culinary crew would be responsible for executing her menu. The Copper Key has catered events for large corporates such as Netlfix, Hulu, Amazon, Spotify, Snap, and Nike. Now, Duddie has transformed his existing catering kitchen in the former renowned French restaurant, Spring, to cook all of the licensed brands. Postmates has an agreement where it licenses limited menus of top-performing restaurants and charges him a below-market commission to sell items under those names from his space. Brands receive a royalty of its sales and train Duddie's staff while he is ultimately responsible for hiring cooks, purchasing food from the brands' suppliers, paying rent, and operating the business. All brands are curated by and sold exclusively on Postmates.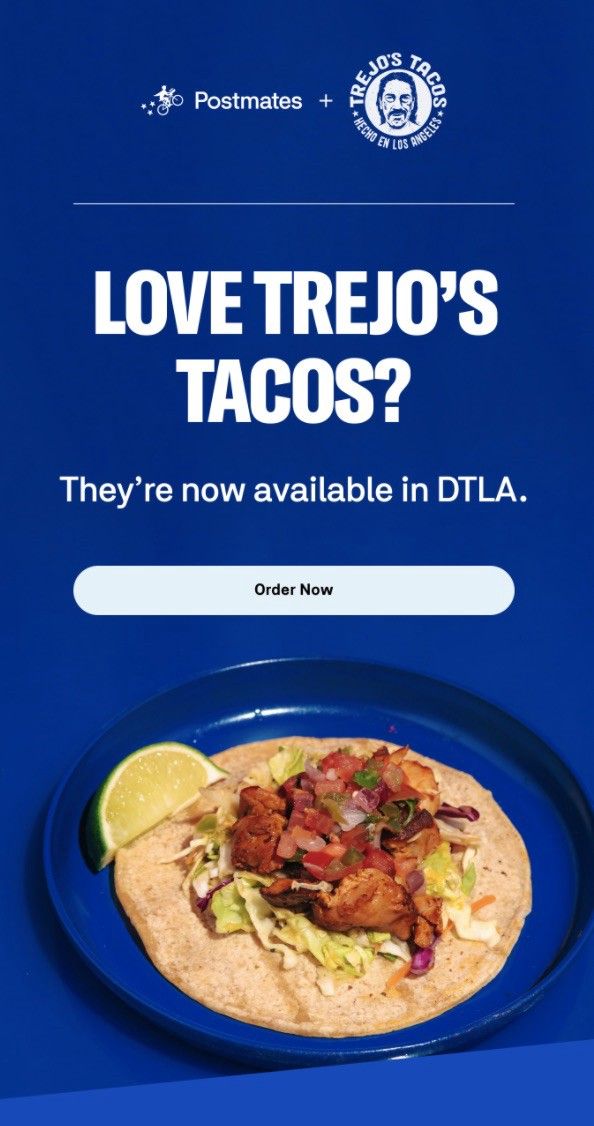 "So far it's been a good experience for everybody," said Duddie in a phone interview with HNGRY. "Without USC and offices in play there's a demand for delivery down here. I'm pleasantly surprised because we thought it might be anemic. If we were just one restaurant here, maybe Postmates or other apps would deliver 20–30 orders per day, which wouldn't make a difference for us. Now, we can have 30–50 orders for six brands. It starts producing enough revenue where you start saying this is interesting."
While franchise agreements may be novel for neighborhood restaurants like West Hollywood's Dialog Cafe, Canter's is no stranger. In 2002, it lent its name to the Treasure Island Casino in Vegas and the Silver Legacy Casino in Reno, NV. It licensed itself to another Vegas hotel in 2015 which didn't pan out. The chain has also operated its own ghost kitchens from Kitchen United, Colony Kitchens, and CloudKitchens. With the new Postmates model, it gets the best of both worlds.
"I trust the guys we're working with, I trained them here," explained third-generation Canter's Deli owner Marc Canter from his mothership on Fairfax Ave. "When they opened I looked over their shoulders. I was there yesterday and everything was good. It's a small menu, it's not that hard to do. They're not gonna cut corners. Michael knows how to work under pressure and get a couple hundred meals out quickly."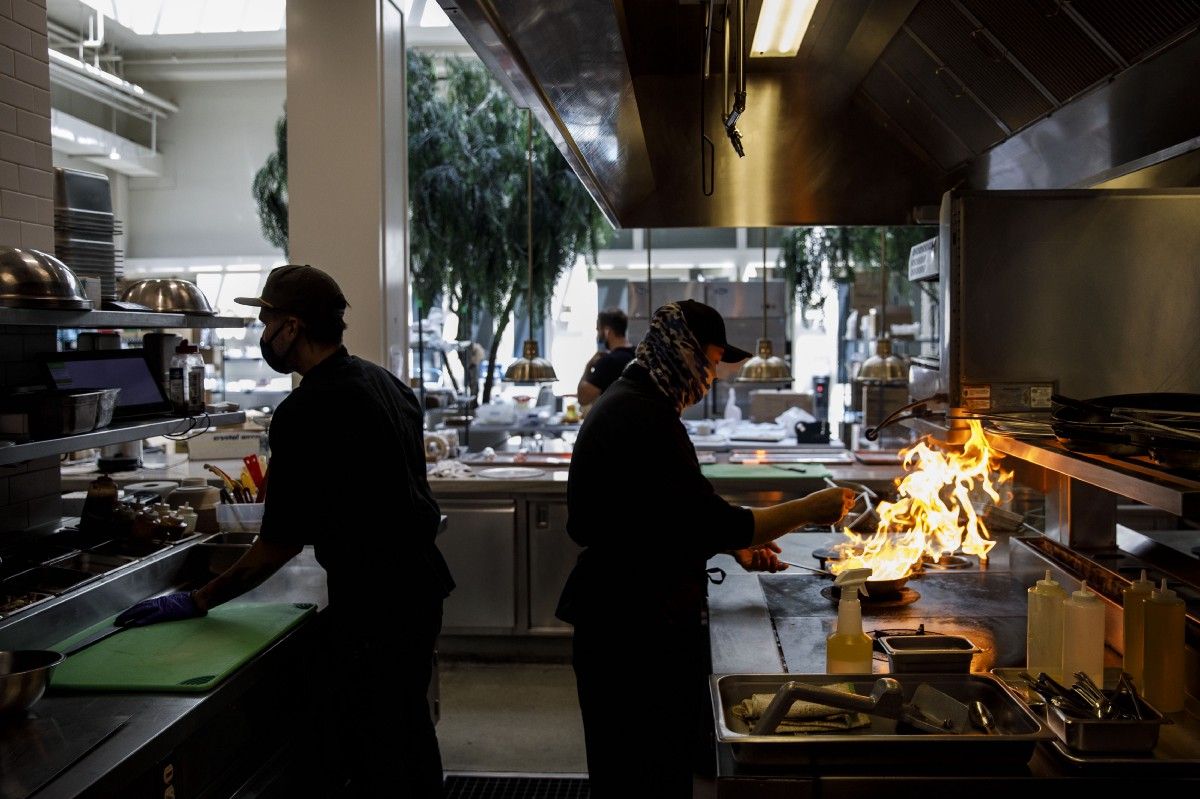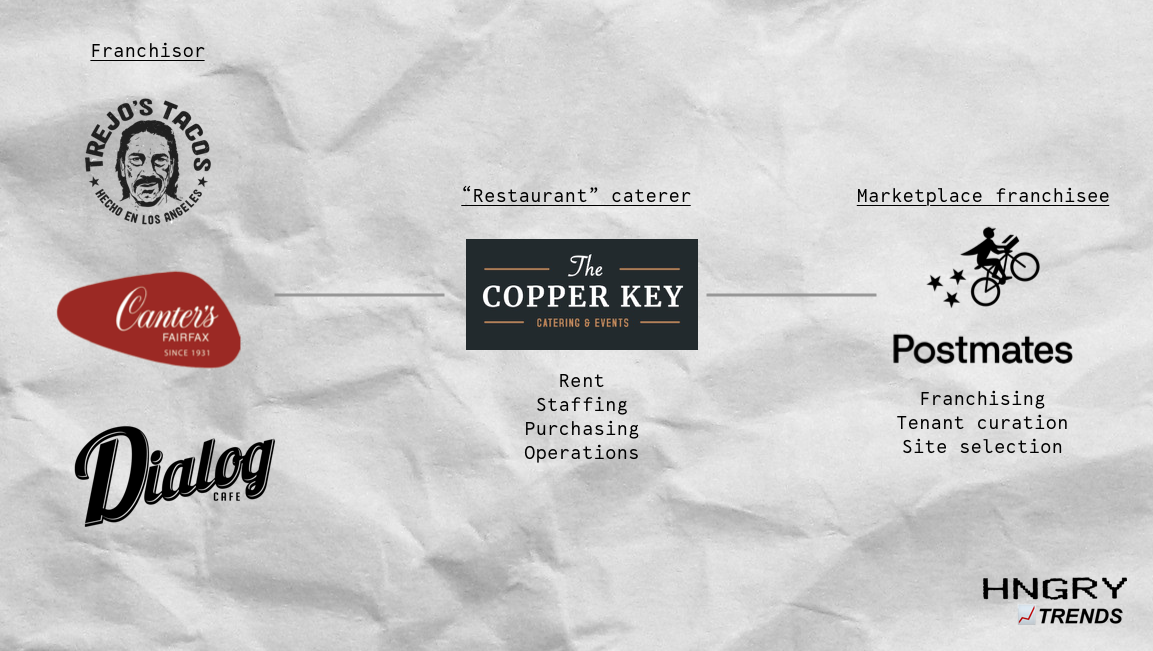 Canter's has been an early adopter of Postmates and is one of its top-performing nationwide restaurants It's been in talks with the company for four years about creating this very concept. When it finally settled on its ghost kitchen model, Postmates was able to cite three years of Canter's Downtown sales data from operating four miles west at CloudKitchens' first location. As of last year, Canter's is no longer a CloudKitchens tenant but maintains presences in Pasadena with Kitchen United and in Santa Monica with Colony Kitchens.
"People are ordering food different ways now, food is coming to them instead of them coming to it," explained fourth-generation Canter's Deli owner Marc Canter, who has been working in his family's restaurant for 38 years. "I'm sure if my grandfather were alive he'd be doing the same thing because that's the future. You have to do what it takes to stay with the times."
Trejo's Tacos, of Danny Trejo fame, operates five locations in LA including a franchise at LAX as well as a ghost kitchen inside Colony Kitchens. Dialog is a single-unit cafe known for its healthy breakfast/lunch items and prime sidewalk WeHo location. When Postmates proposed bringing in Dialog, Duddie was initially convinced that the brand wouldn't be able to break outside its bubble. Upon further research into restaurants selling similar items like breakfast burritos, the partnership discovered far less competition in Downtown LA during morning dayparts than anticipated.
A month in to their test, Duddie says that Postmates is interested in partnering with him on another location in West LA where they would likely compete with Colony Kitchens. For now, it appears that the company's ghost kitchen initiative is operating independently of its future parent, Uber, who has teamed up with Reef Kitchens to create a curated "Neighborhood Kitchens Food Hall" out of mobile trailers in urban parking lots across the country. For brands like Wow Bao, Reef reheats pre-made "meal kits" made at larger off-site commissaries. Similarly, Andressen Horowitz-backed Virtual Kitchen Co. pays brands a licensing fee to extend their delivery radius into new markets, using minimal cooking techniques to reheat popular items for delivery platforms. The licensing model has gained popularity due to the lower-risk proposition for operators who relinquish control in exchange for reach and minimal upfront cost compared to a dedicated ghost kitchen that operates 15 hours per day with 2–3 cooks. For QSR and fast casual restaurant brands, it's all about leveraging lower-cost infrastructure to unlock latent demand in new markets.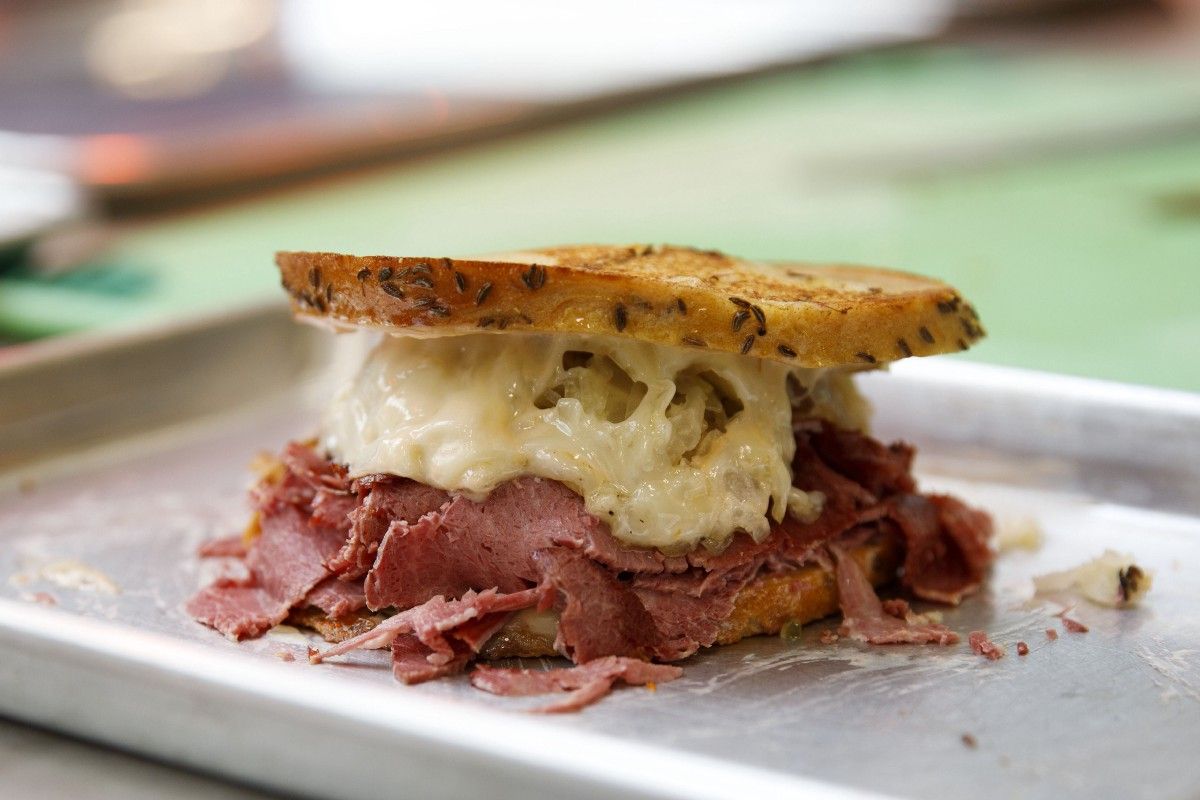 "We know we have a good product but you have to use technology and present yourself in front of the customer," said Canter. "That's the work my grandfather and my father did, building up a name all these years. Now's the time — even if it's harder to make these things work, that's what it is. You can't think you'll be around forever just because you have a good name."
**On 8/27, a retraction of sales numbers and run rate was made to ensure the integrity of confidentiality agreements.