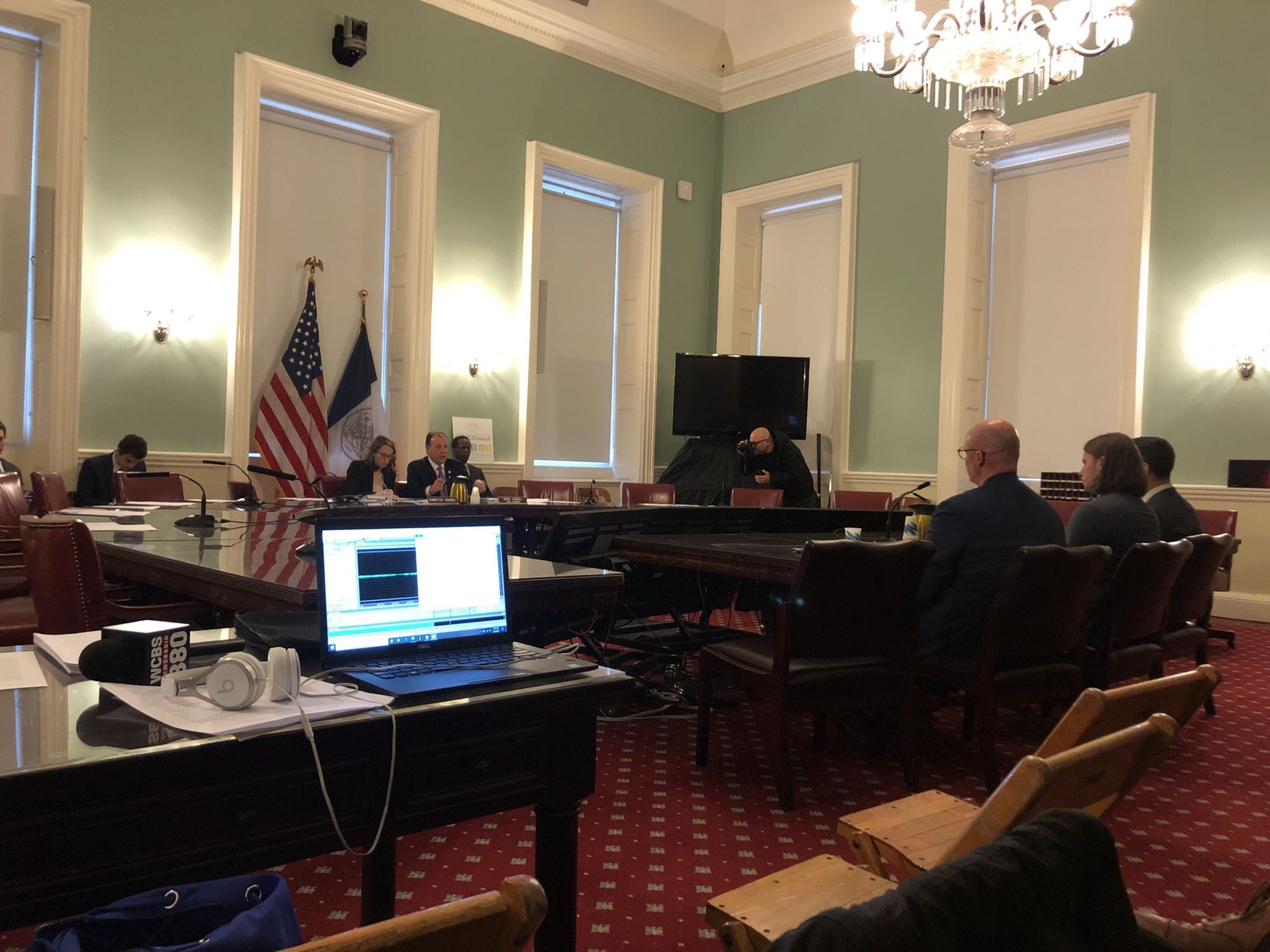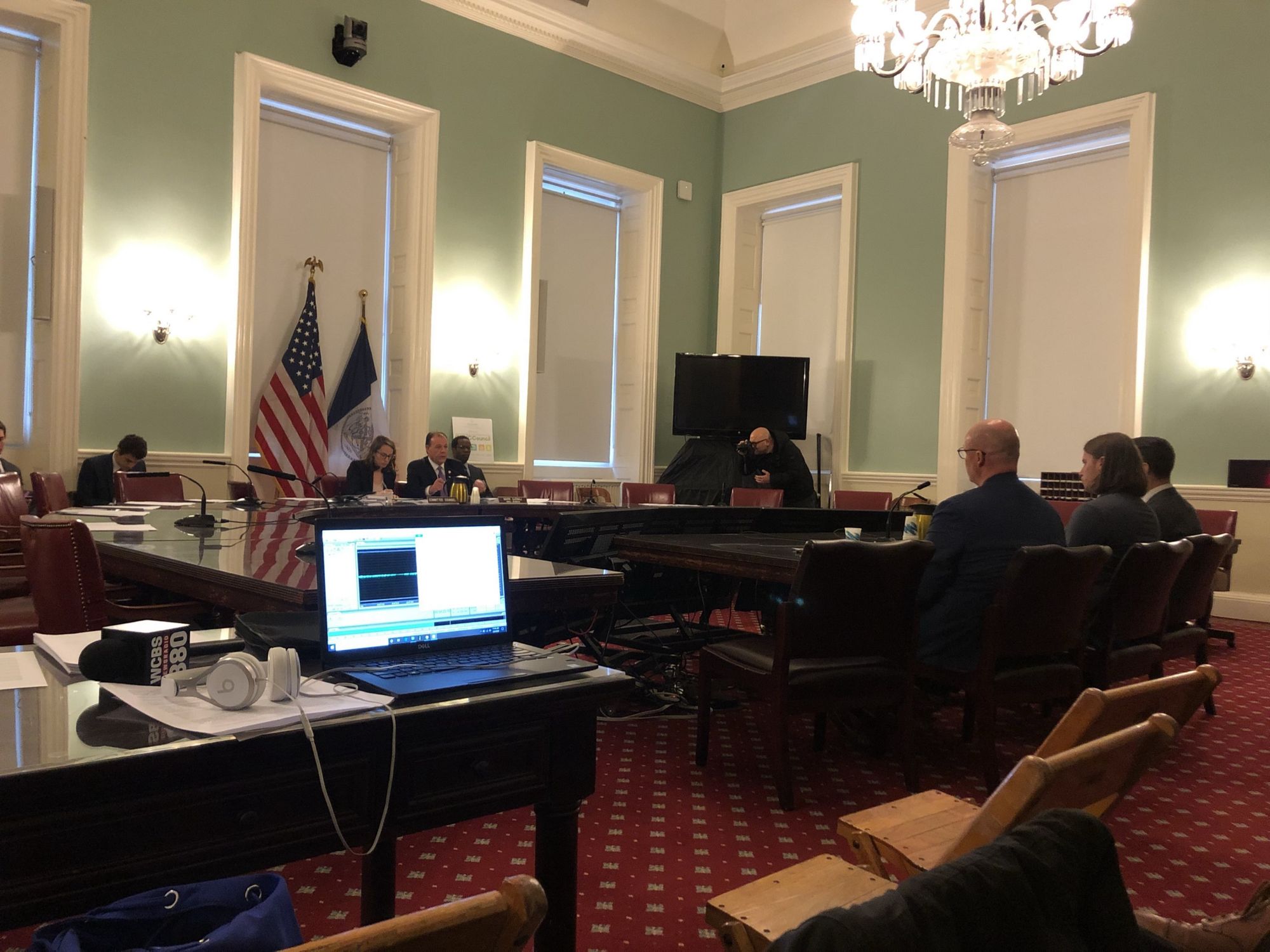 Today, I provided a testimony for the New York City Council's public hearing on the impact of ghost kitchens on small businesses alongside restaurateurs, commissioners, and interest groups. It is the first government inquiry of its kind in the US. Below is my full testimony: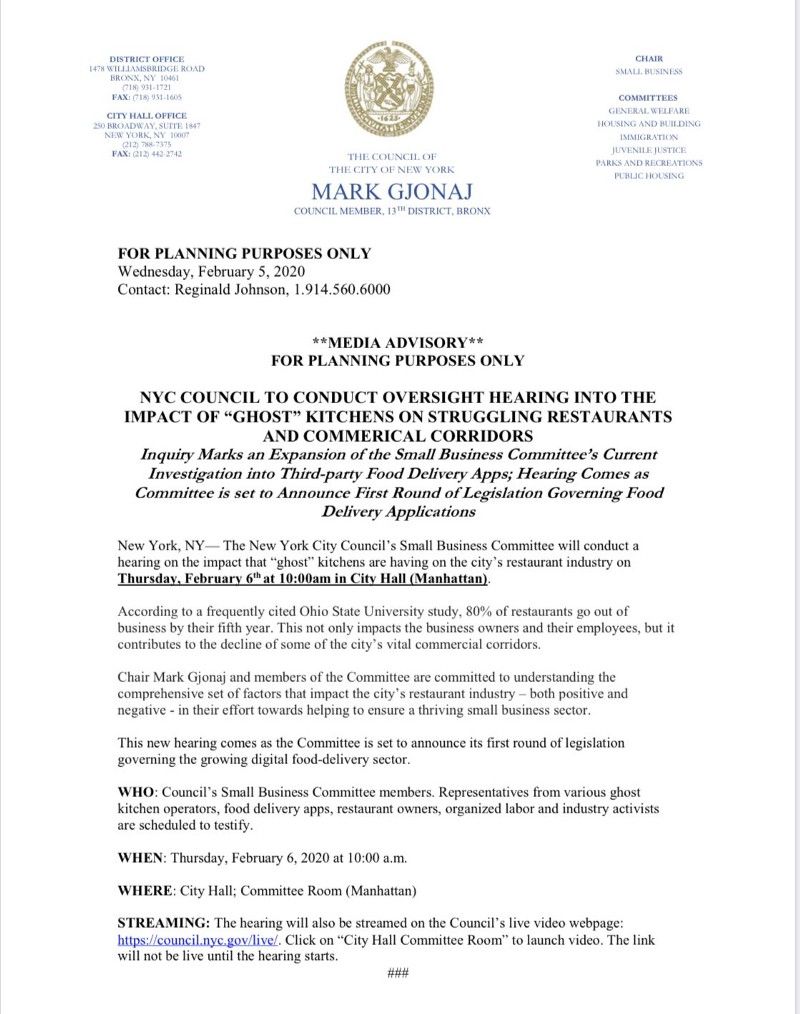 Council Member Gjonaj,
My name is Matt Newberg, I have spent the past eight years living in New York working as a product manager and entrepreneur in the technology field after graduating from the Wharton School of Business at University of Pennsylvania. Last summer, I released a 25-minute investigative online video that featured three delivery-only, ghost kitchen providers in Los Angeles, interviewing restaurateurs from each of them to make better sense of this new trend. While this began as a side project, the response from this piece launched me on a new path to form HNGRY, a new media platform that examines how technology shapes the way people eat. I have done extensive research into online food delivery and ghost kitchen providers, visiting different sites in Los Angeles, San Francisco and New York and speaking with as many restaurateurs, real estate operators, and employees as possible. I am here today to share my knowledge of the power that these kitchens hold and the potential impact that I foresee on our communities, workers, and small businesses.
My conversations have led me to conclude that the goal of these startups is to build kitchen infrastructure, automation, and logistics that are optimized to deliver food at a lower price than dining in a restaurant or cooking at home, just like in China. Because they aggregate dozens of restaurant brands and convenience items under a single roof, large players like CloudKitchens can leverage higher average order values to subsidize the cost of delivery, making it free for the end consumer. Imagine ordering a burger, your significant other ordering sushi, and adding in a bottle of wine to one delivery order. And because they are located in facilities that are optimized for the last mile of delivery rather than foot traffic, all of this is delivered at breakneck speeds that we have yet to fully experience in this country.
At a high level, you can think of a ghost kitchen like a virtual food court that you might find at an airport, where a small number of companies are responsible for a wide variety of concepts. Today, these kitchens plug into third party delivery marketplaces like UberEats, Seamless, Postmates, and DoorDash but tomorrow it could all exist on a single platform. It's quite analogous to Amazon, but instead of books, it's freshly prepared food that we feed our bodies.
This infrastructure is largely fueled by nearly $2bn of foreign capital from the sovereign wealth funds of Saudi Arabia and Dubai for startups like CloudKitchens and Reef Technologies respectively. On the surface, they are repurposing real estate like parking garages, warehouses, and strip malls for the on-demand economy. They have eliminated the front-of-house in exchange for designated delivery pickup areas and feature exterior signage designed to ensure drivers, not diners, can locate the right facility. Thanks to a credit line provided by Goldman Sachs, CloudKitchens alone has the ability to turn its $700mm of equity capital into a $2.8bn warchest, at a minimum, to purchase any property that can be conceivably subdivided into dozens of kitchens.
As famous entrepreneur and early Uber investor Gary Vaynerchuk explained CloudKitchens to a room full of marketing execs last summer, "It is unbelievable how much disruption is coming. The only thing that's going to be left is the brand, the affinity that the customer has for the brand and that's it."
It makes total sense that as fast casual and quick serve restaurants witness the majority of their sales shift away from dine-in towards off-premise channels like drive-thru, pickup, and delivery, that restaurateurs adapt to this new world of convenience.
But despite these kitchens' lower upfront costs, the significant fees charged by delivery marketplaces and operating costs still make it incredibly difficult for the average independent restaurateur to turn a profit. A recent study from Kitchen Fund, an investor group that backs brands like Sweetgreen, by Chloe, and Inday found that a ghost kitchen operator must generate at least $650,000 in annual sales in order to break even. By comparison, the average Chipotle store generates just under $400,000 from both delivery and pickup, about 18% of an average retail location's sales. Both CloudKitchens and Kitchen United have experienced significant turnover from tenants since opening. The latter only has two of its original seven tenants remaining from its first location.
Because many restaurants cannot stay afloat selling a single brand in a ghost kitchen, providers like CloudKitchens equip their tenants with custom-built software that makes it easy to launch multiple concepts from each of their 225 square foot kitchens.
To illustrate this point, inside just one CloudKitchens 11,000 sqft warehouse in West Adams, Los Angeles, there are 27 individual kitchens that are responsible for 115 unique restaurant listings on every single delivery platform at the time of my investigation.
Many of these are virtual concepts rather than physical restaurant brands, some of which aggregate items across multiple kitchens inside the warehouse, enabling that dinner date scenario I mentioned earlier. You won't discover them by walking down the street. If you want to see them firsthand I suggest you google "site:postmates.com 1842 w washington blvd." If successful, I fear that the diverse set of local restaurants around this neighborhood such as Sophie's Cuban Cuisine, Pisillo Italian Panini, Bombay's Indian Restaurant, and Leo's Bagels would be replaced with virtual concepts like: Fry Me A River, Italian Stallion, WTF is a Quesorito?!, Late Night Munchies, Panini Gang, Try Tasty Tacos, and Morning After. I'm not making these up.
There are 185,000 single-unit full-service restaurants like these in the US, accounting for nearly a third of the total dining landscape by volume. According to the Bureau of Labor Statistics, independently owned restaurants employ just over 3 million workers. As restaurants shift towards an optimized off-premise, ghost kitchen model, the need for front-of-house staff is eliminated and the number of back-of-house cooks is drastically reduced.
Cashiers, hosts, and waiters account for ~60% of this workforce. These jobs are replaced by apps in a ghost kitchen environment. Dishwashers become a shared service within the entire facility, therefore that number trends towards zero. The remaining third of back of house staff shrinks in half from 5 to 2 or 3, leaving a total population of 500,000 cooks to find new work in ghost kitchens, about 17% of the current workforce.
Those 2–3 workers could halve again thanks to CloudKitchens' Silicon Valley operation that is working on building advanced conveyor systems. This could hypothetically evolve towards robotics.
While ghost kitchens could create positive efficiencies, like lowering carbon emissions through batched delivery orders or enabling restaurants to rapidly test new concepts, they simultaneously add another intermediate layer that makes it incredibly difficult to trace our food back to its source. On a recent investigation, I discovered that a Rachel Ray virtual restaurant concept on UberEats was originating from Reef Technologies' kitchen trailers in Chelsea and Long Island City parking lots, the latter of which was adjacent to a porta potty. These kitchens were recently shut down by the fire department due to their abundance of propane tanks that posed a safety hazard.
If there are any takeaways from my testimony today it's the power of leverage that these kitchens have in their ability to shrink a city block into a single warehouse. One liquor license that has the potential to blanket an entire city. One location that equals 13 operators, 27 kitchens, 115 concepts. There are four CloudKitchens locations in New York already, and more on the way: two in Tribeca, one in Midtown, another in Long Island City. By the end of this year, the 300-person-plus company will have a presence on every continent in the world.
It is my hope that today's discussion will inform future action that allows us to innovate while ensuring the future health and diversity of our modern workers, small businesses, and communities. Thank you.
If you enjoyed this article please sign up for the free HNGRY newsletter here.