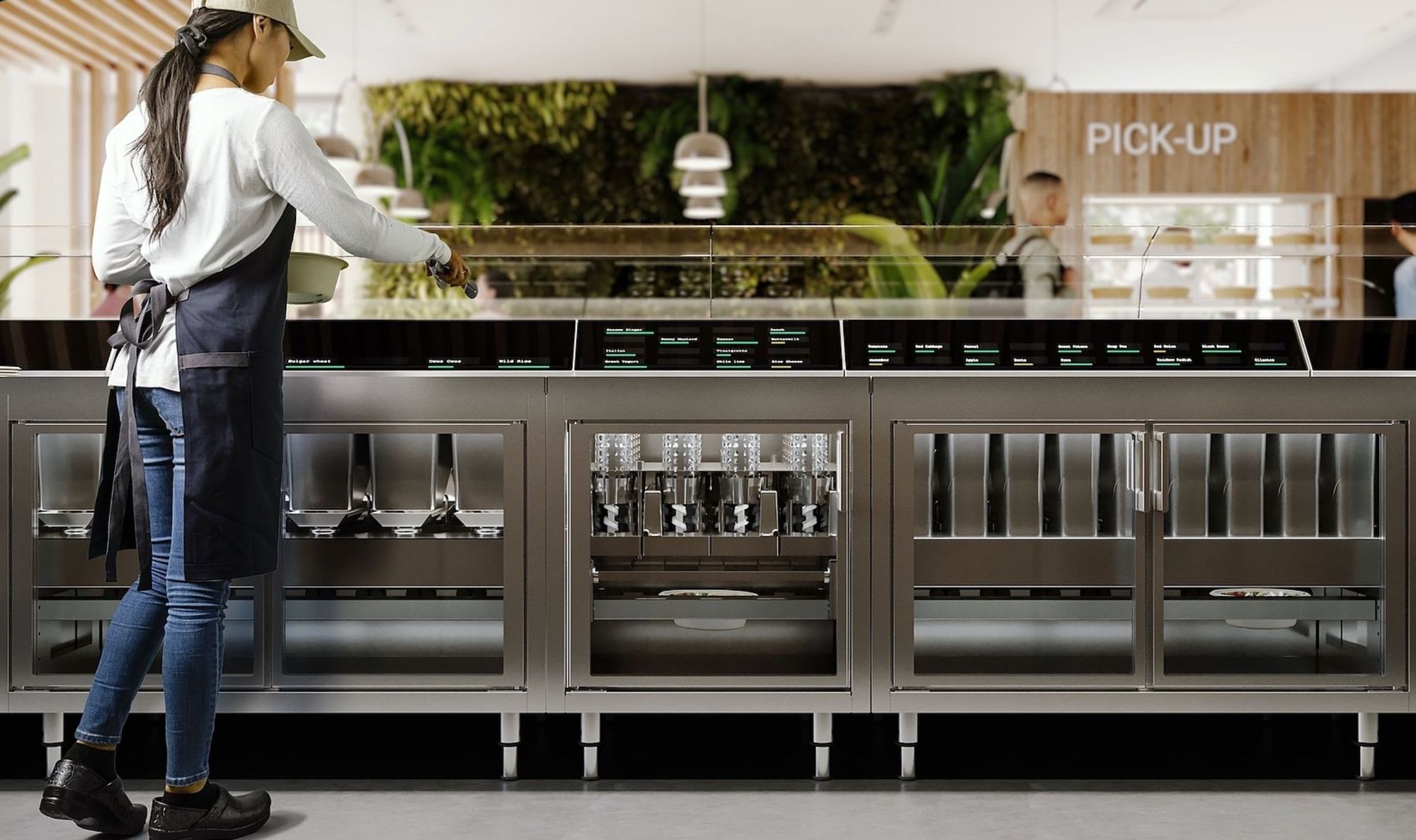 In 2018, co-founders Stephen Klein (CEO) and Daniel Fukuba (CTO) had been building for the labor-starved, off-premise driven restaurant world of 2021, they just didn't expect it to come so soon. After spending just over a year building a proprietary robot-powered smoothie truck, Ono Food Co was quickly forced to hibernate as the pandemic hit last year. According to Klein, Ono's goal was to build a "healthy Yum Brands 2.0," a portfolio of quick serve brands powered by automation. Like most food tech startups, it just so happened to be starting with smoothies. The idea was to park the truck around the Abbot Kinney retail corridor of Venice, CA and have a greeter assist passersby place orders on a kiosk that would quickly dispense a customized smoothie. But just two months into operations, Covid canceled yoga classes of would-be Ono customers, turning the neighborhood into a ghost town overnight. Fast forward a year and a half later, the company went on to secure an additional $10mm of funding from existing investors plus a roster of strategic angels like Marc Rowan (Apollo), Donald Moore (Cheesecake Factory), and A&C Ventures (one of the largest Taco Bell franchisees), to build Hyphen, an automated makeline for the fast casual bowls and burritos of the not-so-distant future. Today, the startup  boasts 25 employees hailing from companies like Instacart, Postmates, Sweetgreen, SpaceX, Apple, and Cruise, signing up eight customers with over 350 locations: six restaurant chains, a virtual salad brand, as well as a co-packer of pre-prepared grocery meals. Amidst the restaurant labor shortage, Hyphen says it can reduce the average cost of makeline labor by 78% as it takes 4-5 workers down to a single team member, bringing total labor costs down by nearly 50%. Say goodbye to burritos that are loaded to the gills or downright anemic; the startup also claims to bring "overstuffing" costs of over-portioning ingredients down from 4.5% of COGS all the way down to 1%.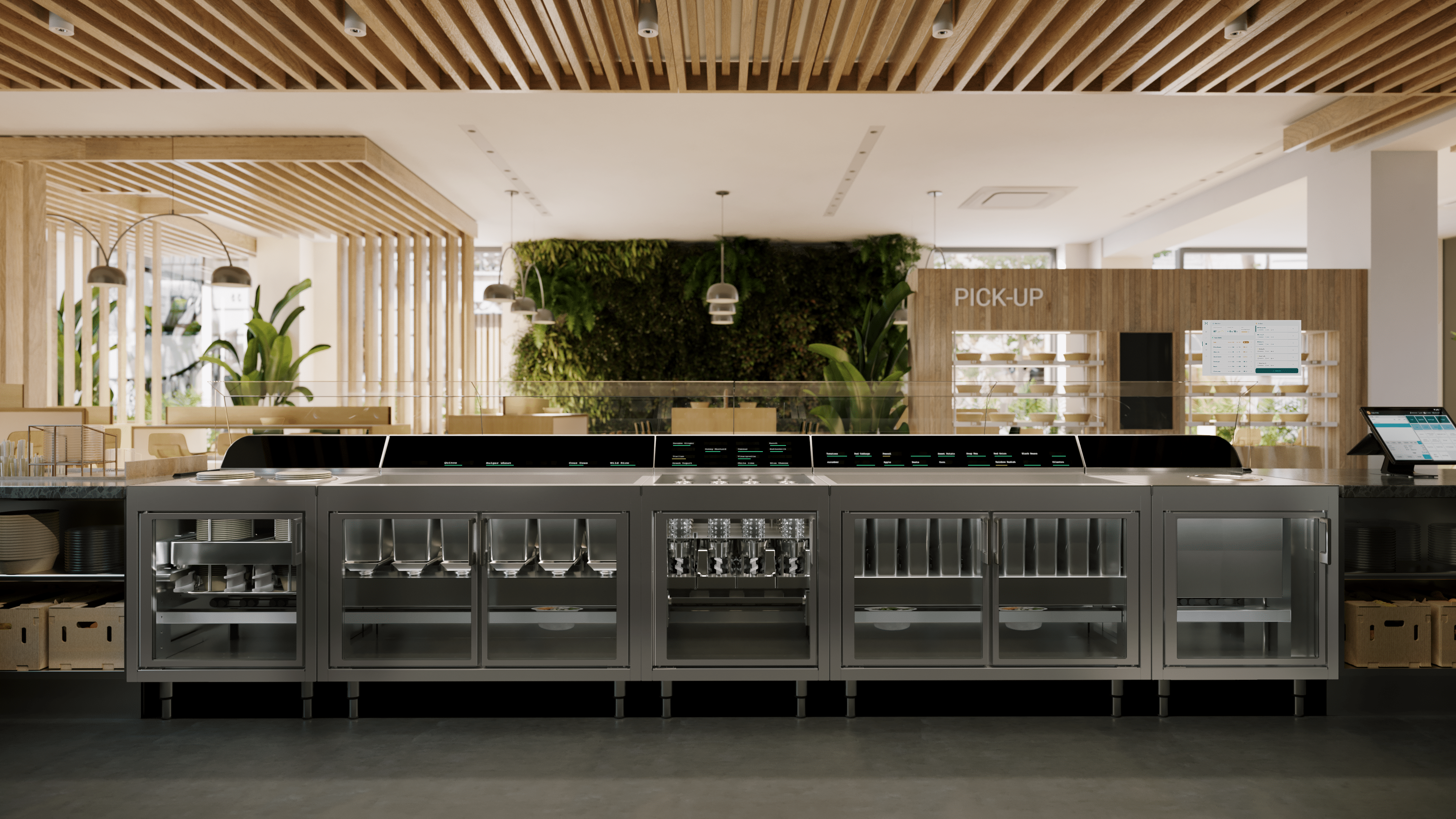 "We knew we were the ones who should be building the picks and shovels," said Klein in an interview with HNGRY. "The whole premise was: if we could make the dispensing process agnostic to food type from kale to pineapple, we'd just change the processing module for each category." What that means is that Hyphen will eventually expand beyond salads to handle a wide variety of formats from tacos and burritos to grain and açai bowls. While many ventures have tried and failed to harmoniously bundle robots with concepts like Creator for burgers, Cafe-X for coffee, and Eatsa for quinoa bowls, Hyphen is taking a more service-like approach that attempts to blend into a brick and mortar's existing layout. It is designed to replace a restaurant or ghost kitchen's existing makeline with one that can handle both manual production on top and automated below. Whereas a current throughput-driven fast casual concept may crank out ~20 meals per hour, Hyphen's automated makeline can achieve 17 times that. As a B2B player, the company has also designed its pricing to be an operating expense that scales based on order throughput. For example a location that fulfills 1,000 orders per day will pay a lower cost per meal than one with a half of the demand. At scale, a restaurant customer could pay as low as ~$0.70 per meal, smoothing the labor cost curve of a traditional store. According to Klein, 80% of a typical fast casual restaurant's orders happen within a 3-4 hour window but shifts are typically eight hours, effectively creating a higher cost per meal during off-peak hours. With automation, Hyphen is able to transform labor from a semi-variable cost into an elastic one that scales with demand; think labor-as-a-service. Klein says the pay scale incentivizes his restaurant partners to produce more pre-prepared meals off of the same makeline, allowing restaurant brands to expand their reach into grab-and-go channels like grocery stores, campuses, and gyms.
Three members of Hyphen's leadership team hail from Sweetgreen: former Head of Automation Derek Pietz as well as former R&D director Jordan Buettner and Growth Project Manager Carter Branch, who worked on its Outpost network. Prior to Sweetgreen, Pietz was the co-founder and CTO of L2F, a company that was responsible for building robotics used for high-profile robotics startups like Zume and Cafe-X. Other notable talent include former Apple Senior UX Designer Mark Manfrey, former SpaceX Director of Production Steering Joey Weinmann, and former Postmates Mechanical Engineer Jacob Boyer, who worked on its autonomous Serve robot.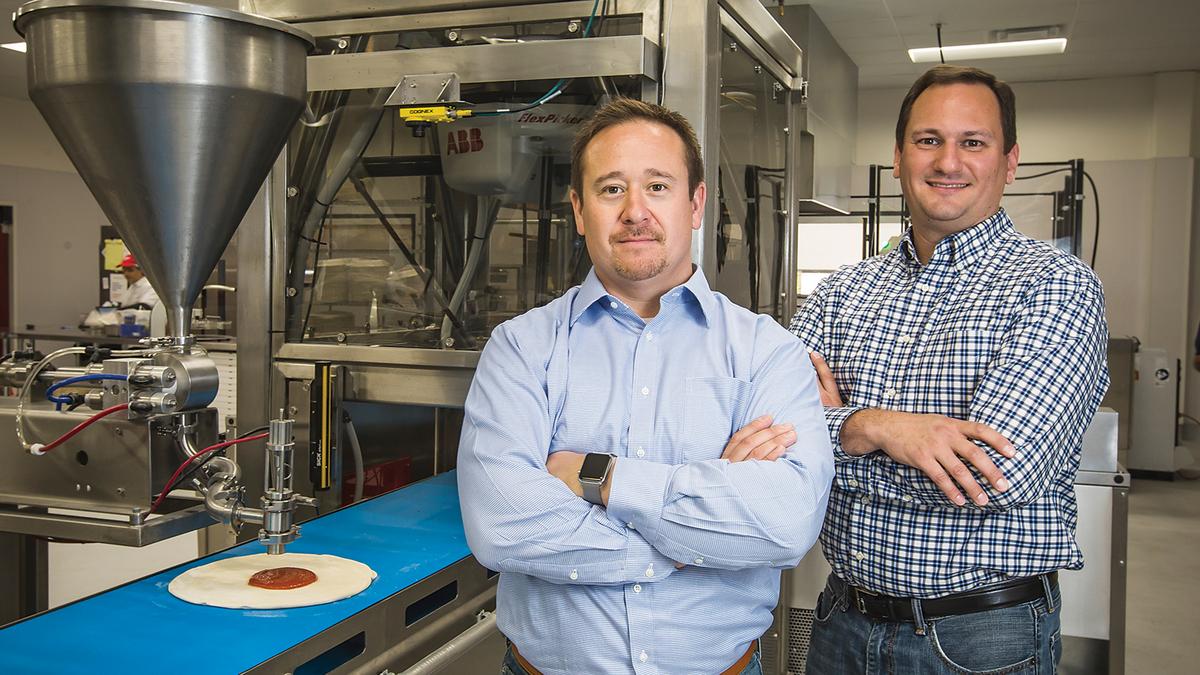 As it turns out, Sweetgreen had been working on an automated solution of its own up until last April, as originally reported by The Spoon. In a late 2018 podcast interview with Kara Swisher, Co-Founder & CEO Jonathan Neman sold his vision for his brand as a vertically-integrated food platform that owned everything from supply chain to production and content creation down to ordering. In this world, Sweetgreen owns the hospitality and the content (recipes), but the assembly gets handed off to what he describes as a "kitchen assistant."
"With the wage pressure you have in food, what people are doing is passing that price right now onto consumers. There's going to be a point where you cannot pass that on to consumers," he said to Swisher. "If you think about your clothes that used to all be made by hand, and now you don't really think twice that a lot of them are assembled by machines. So, there's still things you can't do with food for a while in terms of the art of it, the final composition, but there's parts of it that can be automated. For us, assembly could probably be automated, right? And then you may need someone to finish it and make sure the avocado fans and the dressing comes on nicely."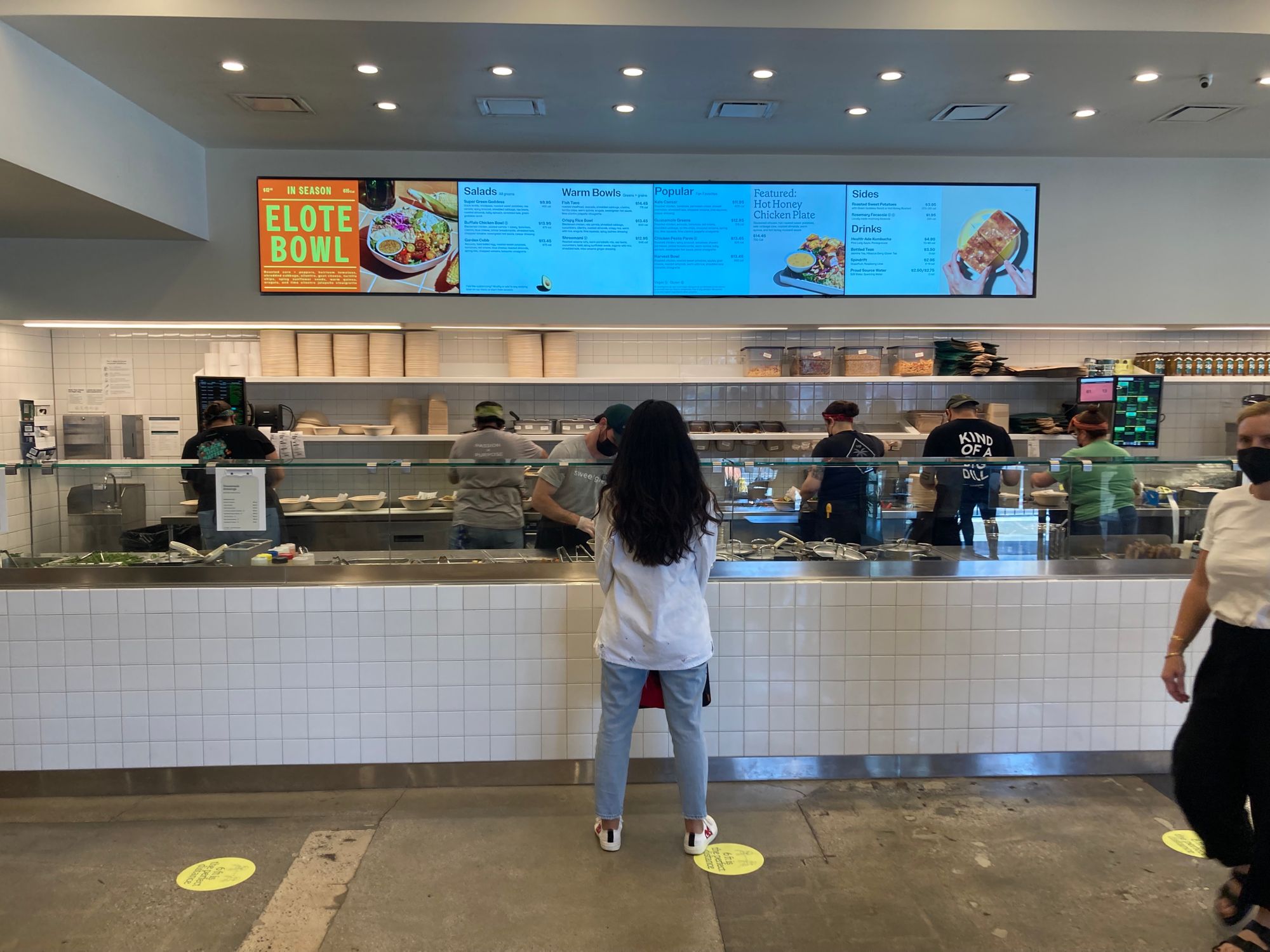 If you walk into a typical Sweetgreen at peak hour today, you'd likely see six team members working across two near-identical makelines: five employees handling a line for online orders and one employee working a line for walk-ins. In the case of Hyphen, restaurants would operate a single line with one employee to handle walk-ins while the rest of the online orders are discreetly fulfilled on a conveyor system below. Hyphen's marketing video depicts a Bay Area working professional ordering a salad via DoorDash on her phone where the order is immediately routed to a kitchen display system before entering automation. A tray denester then drops a bowl, cup, plate, tortilla, or taco shell onto the automated makeline where the dish traverses down the line like you'd normally expect. Hyphen's specially-designed hotel pans uniquely dispense each ingredient to ensure proper rationing as the dish rotates to create a standard radial pattern found in most fast casual concepts. The meal is then shuttled to the top of the manual makeline via an elevator, where a lid is automatically secured and labeled with the customer's name and order info before being placed on a to-go shelf. The configuration is fully customizable with a wide range of modules that can dispense beverages, reheat proteins, and portion dressings into containers. The system is modular enough to handle a range of settings from food trucks and ghost kitchens all the way up to a brick and mortar. "If you're ordering digitally on your phone, you don't care who makes the food as long as it's fast, fresh and consistent," explained Klein. "It's designed to work for people and not instead of them. Autopilot is the framework we think about. What tasks can we automate and redeploy labor somewhere else?"
Hyphen prominently features a digital backsplash display across the entire line that functions as a "fuel gauge" for employees to know how many meals before a particular ingredient runs out, nudging them when they need to take action. The system boasts thousands of sensors that monitor everything from temperature to weight as well as AI-based computer vision that adds a layer of quality control, similar to startups like Agot and Satis. This is another massive opportunity for optimization as Service Management Group recently put out a survey that found 17% of third-party delivery orders to have some inaccuracy. These mistakes lead to a ~3% average order defect rate that contributes to refunds and customer churn.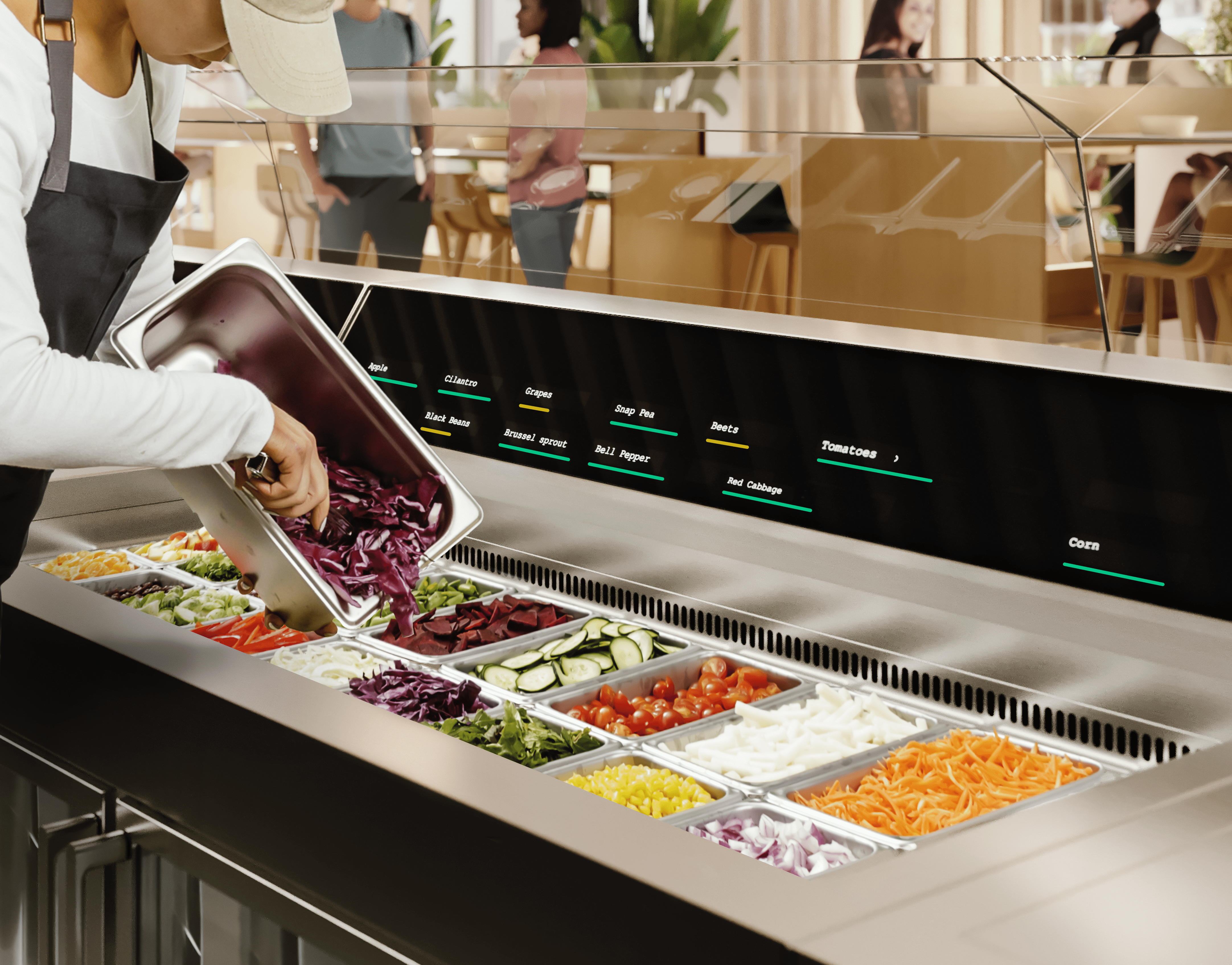 Hyphen's kitchen display system (KDS) dashboard contains similar functionality to the likes of Ordermark and Galley, consolidating all third-party and in-person orders while also allowing staff to reorder inventory through integrations into distributors like Sysco and US Foods. The sensors also measure the productivity of the manual makeline to better quantify the amount of time it takes to say, scoop an avocado. These features underscore Hyphen's desire not only to optimize labor, but also to become the system of record for restaurants as it tracks data that restaurants never had any visibility into before. If it can successfully achieve that goal, the startup plans to go further to expand into new software and hardware solutions to further action that data.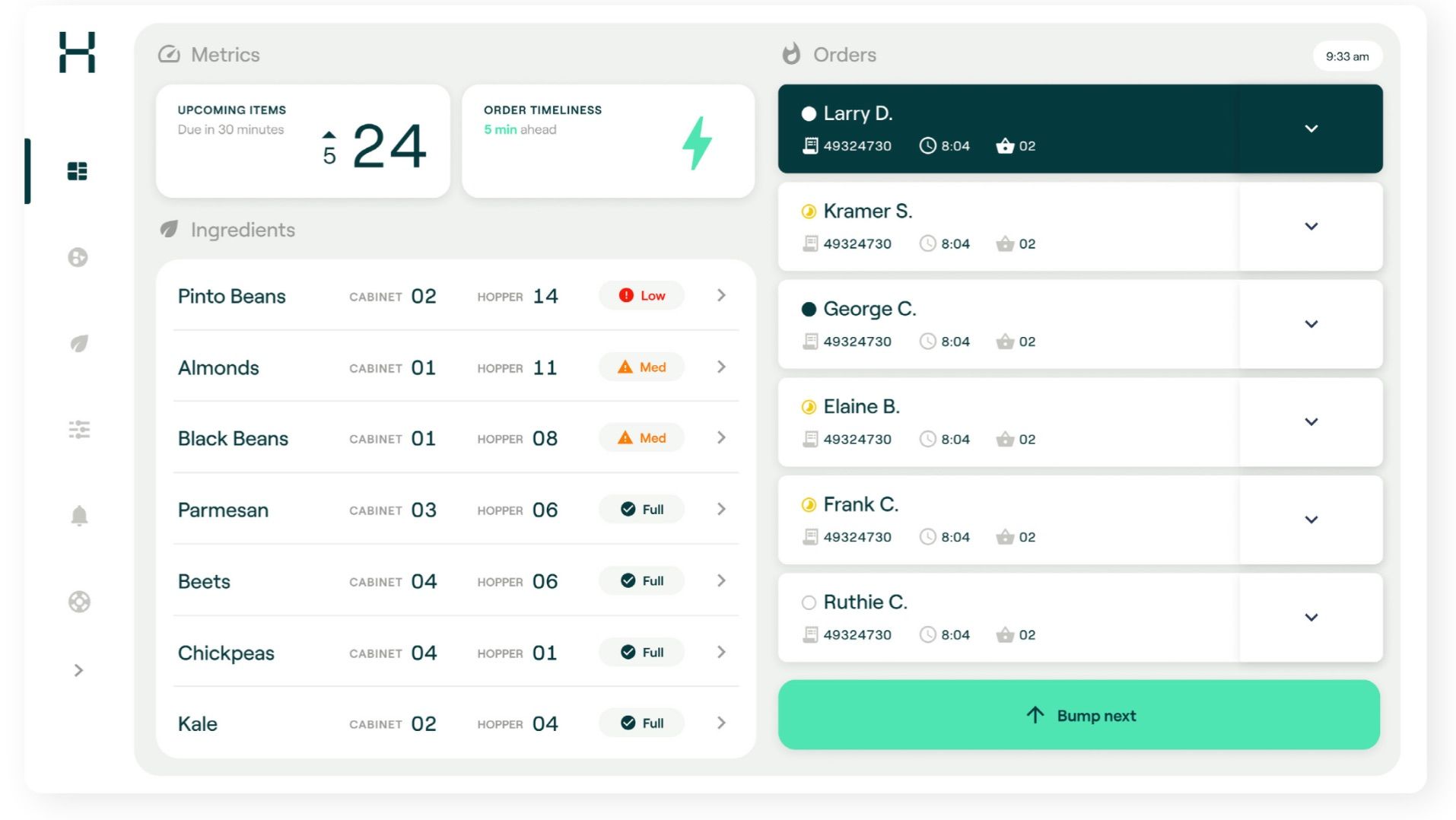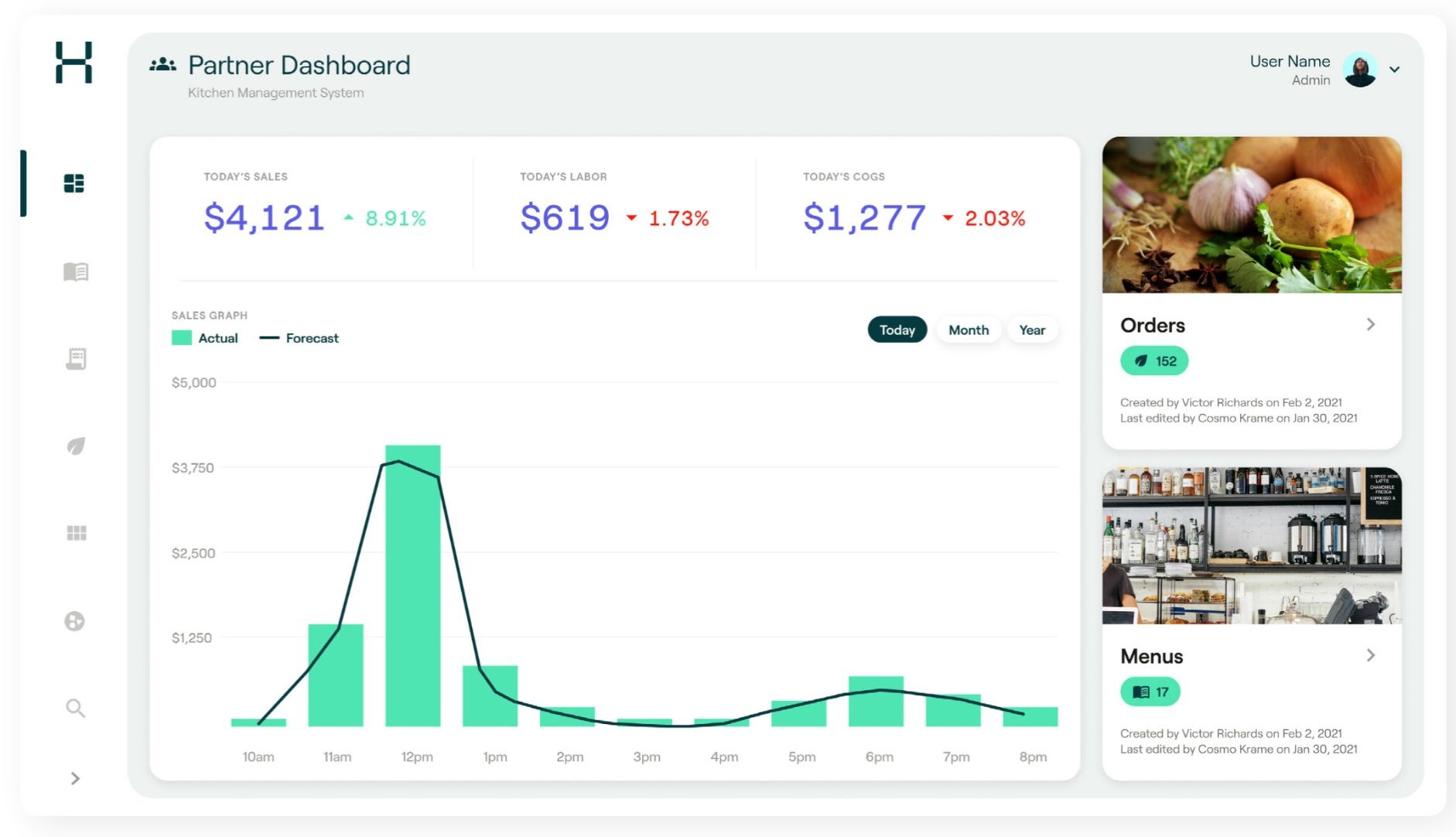 It's clear that Klein is passionate about helping restaurants manage their bottom line as food and labor costs increase, but talk to him about making the process of starting a restaurant as easy as building a website and he gets even more excited. At some point, I suggested that Hyphen could become a "Squarespace for restaurants," allowing aspiring delivery entrepreneurs to spin up a virtual brand using a WYSIWYG editor that would allow them to create permutations of bowls and burritos using a set number of ingredients ad infinitum.
"We've gone from mass production of Anheuser-Busch to Anchor Steam. The same will happen with restaurants," he said. "There will be less Subways and more 'fill in the blank' sandwich shops." He even proposed the idea that Hyphen could finance its systems for upstart brands in exchange for a cut of sales.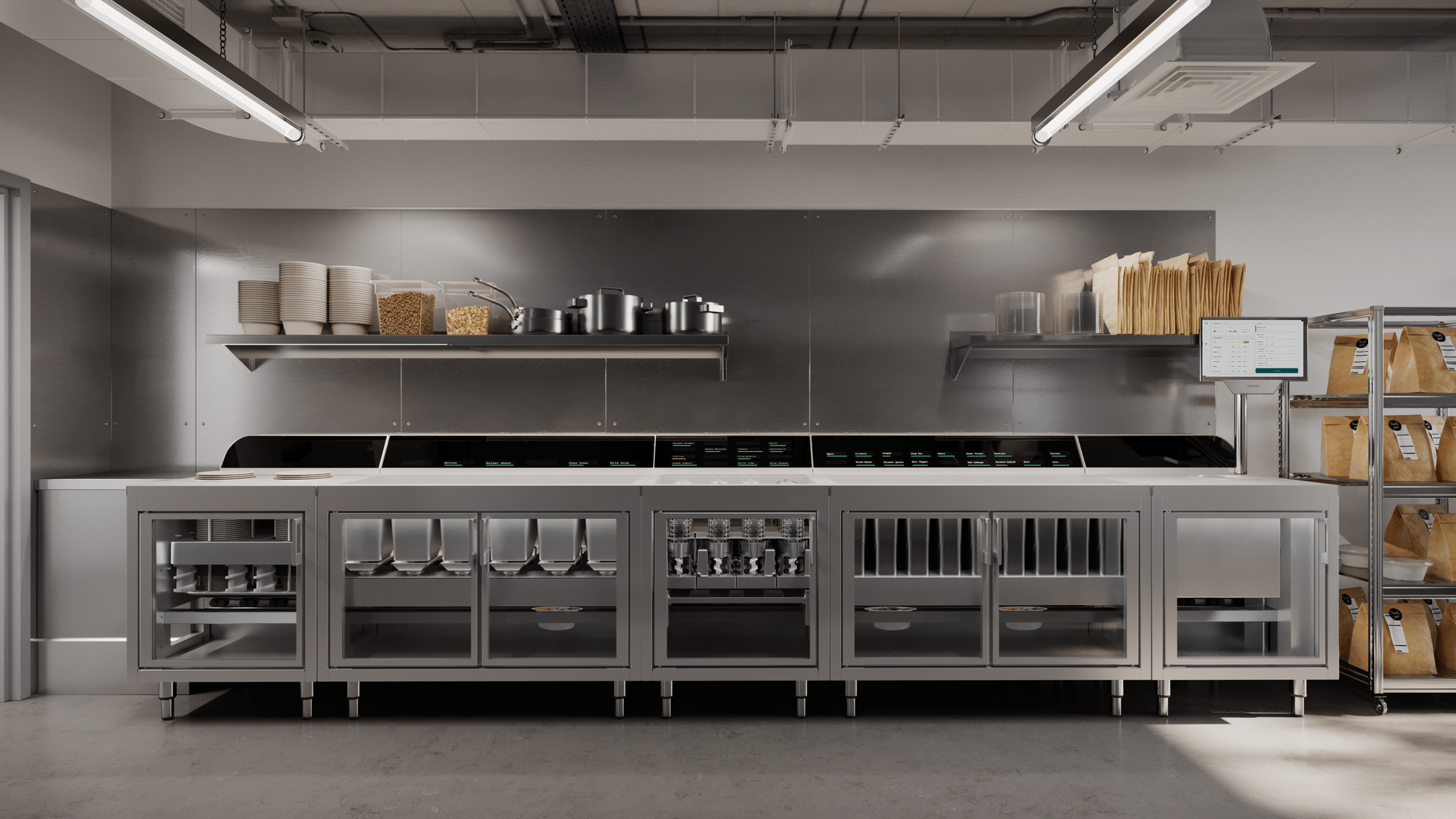 The startup will begin its phased rollout in an R&D lab in October before scaling nationwide to some of its customers' 350 stores. The locations will naturally be dictated by the stores with the highest percentage of pickup and delivery orders in tier-1 markets. While ghost kitchens and copackers will be easily able to drop Hyphen in and watch it work, the real test will be watching the first customers wander into a store  and react to the sight of a single employee behind the line.
"At the end of the day, what is a restaurant?," posed Klein. "Creating delicious dishes and creating experiences. Everything else is just an input or output of making that dish."
In the on-demand economy, servers are to AWS as labor is to Hyphen. Ya Dig?